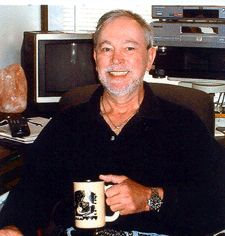 With the closing of 2008, I'm looking forward to the beginning of a new era in the development of the Uechi-ryu karate system practiced by IUKF members. I'm 'kicking' off the new year with a brand new website format that is easier for me to edit and possible for contributors to help build.
I'll be  looking for editors who will be contributing articles on subjects of interest to the martial art community. And of course there will be opportunities to discuss these subjects in greater depth on our very popular forums. Since the Uechi-ryu.com site gets thousands of visitors every day and most of these people don't visit the forums, I'm hoping this feature will motivate people to drop in and contribute to the forum community.
My "virtual" dojo will be entering a new era come 2009. After nearly three years of experimenting with different programs and teaching methods, I've developed a "long distance" dojo that works. Now that the program is working smoothly, I'm in the process of adding new subjects to the curriculum. Dave Young has volunteered to be the first guest instructor and will be offering a fantastic on-line civilian course in "realistic" self defense. Included will be all the techniques, drills and training necessary to take your "traditional" martial arts to another "realist" level.
Lots of training in "force continuum" will also be covered. . . understanding how the law, judges and juries look at "preemptive" strikes, fight communication and all those things many macho martial art teachers gloss over in class and on the internet. 
Dave will be conducting a series of on-line seminars in 2009 as part of the "virtual dojo" program. I hope you will be joining us at Dave's seminars, both on-line and the ones he is conducting at dojo around the country.
Many people have already signed up to purchase advanced copies of my new book, "The Way of Uechi-ryu Karate", due out early in 2009. I had hoped to have it published for SummerFest in 2008, but with all the other projects demanding time and attention, our team has had to delay the date of release. 
The new website is a work in progress. There are literally thousands of articles, features and photos that have to be edited and moved. I don't know if I'll be able to move all the registered members of the old site to the new one, but we are trying. If not, please re-register so you will be able to view all the restricted features open only to registered users.
Have a peaceful, happy and prosperous holiday season and new year.
Regards,
George E. Mattson