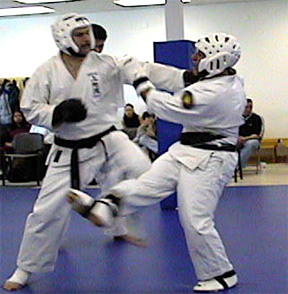 Thank you very much for attending our timekeeper, scorekeeper and corner judging seminar.  We are striving to make our tournaments as fair, impartial and enjoyable as possible for all our students.  I also want our judges to understand tournaments are not a "must win" for our personal dojos.  We are all Uechi-Ryu and we wish the best for all involved.  I also do not want to see the reversal of these sentiments.  All competitors coming up to compete are just another student hopeful.
I have all your individual addresses but I think I'm just going to send your certificates to your dojos and you can pick them up there.  We now have you on our registry and we will email, call and contact you through all contacts we have on file when there are tournaments.  We will only list and rely on your services if you return either an email or letter through US postal.  At my age, I don't want to rely on my memory.
Another bit of information I would like to pass along is I will announce every seminar we are holding in case you may want to redo any of the different seminars. Getting more practice is always a good thing.  Because the intention is not to make money from your attendance but rather to create better judged, there will be no charge for any seminars you have already paid and attended.  However, there will be charges for next level seminars.
The next timekeeper, scorekeeper and corner judging seminar will be held at 117 Great Road, Stow, MA, 01775.  The dojo is located in the Stow Shopping Center.  The time is Saturday October 25 at 3pm.  We'll get done just in time for dinner.  If you decide to attend, please bring your material already passed out to you ate the seminar in Brockton.  If you don't have it, I'll have more.  Let me know so I can prepare.
The Center judge seminar is next.  You can not advance to the "center Judge" seminar until you have completed the
timekeeper, scorekeeper and corner judging seminar.  Place and time to be determined.
Darin Yee