My name is Jacob Bartoletti, I am a martial artist from Sweden but I live and teach karate and martial arts in Sao Paulo, Brazil. Having had the opportunity of being a close disciple of the legendary Yoshimi Inoue I would hereby like to contribute to the Karate community with some of Master Inoue's ideas and teachings.
Soke Yoshimi Inoue passed away in 2015. He was famous for not only teaching some of the best karatekas of modern karate in the world (World Champions such as: Antonion Diaz, Mie Nakayama, Ryoki Abe, Rika Usami).
Soke Inoue has also received a lot of attention for being a great contributor to the modern karate by connecting some of the rather traditional karate principles to the modern competition karate.
Except the fact of Master Inoue being remembered as a martial art's genius, he will always be remembered as a kindhearted Budo-man. He rarely rejected anyone that asked for his teachings and he always inspired his students with humour and laughter.
One of his strengths was to teach "principles" rather than style-specific techniques, Inoue's principles could be adapted to martial artists, regardless of background or previous martial experience.
Consequently, Soke Inoue did not only attract students from many different styles and martial arts from all over Japan (and the world), he was also appointed National Coach before he started his own Lineage, Japan Karate-do Inoue-ha Shito-ryu Keishin-kai.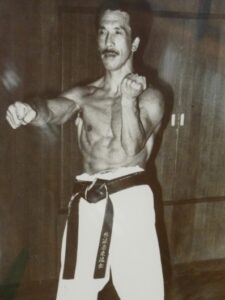 (Master Inoue in his younger days)
The purpose of this article is to share some of Master Inoue's teachings and ideas to the karate community. The ideas and principles taught by Inoue may be applied in both traditional martial arts as well as for the purpose of training for modern competitions.
Soke Inoue himself used to refer to traditional karate and modern karate as two quite different types of training (but that still have many things in common).
Many of the principles, practiced and used in old days have been forgotten or just are not emphasized in modern budo. Inoue thought this was a bad way of evolution.
He meant that many (not all but many) old principles could be used even in modern karate to fill it's purpose of developing skills that would typically be rewarded in modern karate competitions.