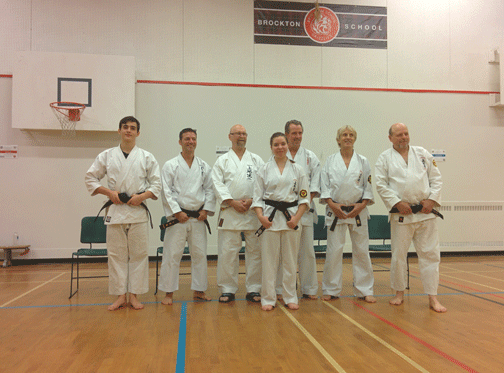 Hi Sensei Mattson and Susan
Just wanted to share this photo with you. On October 24th, the Chilliwack Uechi Ryu Dojo and the West Coast Uechi Ryu Academy, hosted Sensei David Mott. The day consisted of an IUKF Dan test in the a.m. Successful candidates were: Mathieu Vena, Shodan. Alexandra Tonn, Nidan. Matt Tonn, Nidan and John Waye, Godan. The test board consisted of Sensei David Mott, Barry Gower and Michael Vena.
The test was followed by an afternoon seminar with Sensei Mott, enjoyed by participants from both Uechi clubs here on the BC West coast. As usual, Sensei Mott left us with with many things to work on that involves the internal as well as physical practice of our Karate, that is so important to our overall practice. Following the seminar we enjoyed a meal and lots of good conversation and laughs with Sensei Mott, participants and families.
A really enjoyable IUKF event held here on Canada's West Coast!
In the photo from left to right: Matt Vena, Barry Gower, David Mott, Aly Tonn, Mike Vena, John Waye and Matt Tonn.