NOTICE:
Notice to Winterfest Participants
Friday's party
will be at the 1884 Restaurant in Eustis. 6PM.
BTW golf begins at 11am on Thursday. The old course at Mount Dora.
WinterFest – 2019
2019 Uechi-ryu WinterFest
March 1st,2nd and 3rd, 2019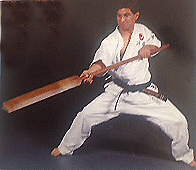 I am pleased to announce that the 2019 Uechi-ryu WinterFest will again be held in the beauiful city of Mount Dora, Florida.

This event is sponsored by Mount Dora Parks and Recreation.

Besides a stellar cast of Uechi-ryu masters, who will be conducting seminars, This year we are honored to be hosting Tsukasa Gushi, sensei, who will be teaching the Kobudu made famous by his father, master Shinyu Gushi.

WinterFest will be held March 1st – 3rd, 2019 (Friday, Saturday and Sunday) from 9Am- 3PM with lunch from noon to 1pm.

Tuition: Two or three days -$150. One day – $100

Please e-mail me if you are planning to attend 2019 WinterFest or if you have any questions.

I am working on the WinterFest website , which will contain links relating to directions, site seeing options, Chamber of Commerce information and local attractions.

I promise, no snow and beautiful weather. Plan your Winter vacation around WinterFest!

Looking forward to seeing you March 1st – 3rd!

George E. Mattson
321-273-0409
gmattson@uechi-ryu.com
Kobudo schedule
Friday– staff fundamentals, seijuno bo and other bo kata(s) critiques.
Saturday– review of staff,….then oar (can use a staff).
Sunday– giffa and sai. Review of seijun no bo, eku ,giffa and sai.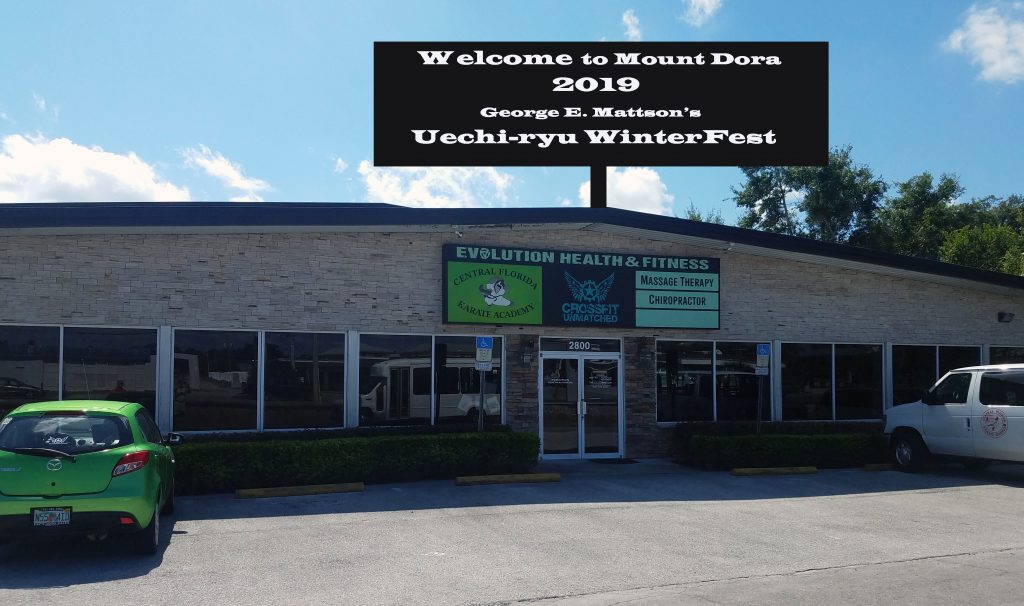 ++++++++++++++++++++++++++++++++++++++++++++
Schedule:
Friday, , 9AM: – 3PM (Schedule to be released soon).
Lunch from 12 – 1PM Served at the facility.
3:00PM – 6:00PM – Free time – sightseeing.
6:00PM – 9:00PM – Dinner and music : 1884 Restaurant: (Click Here for directions)
+++++++++++++++++++++++++++++++++++++++++++++
Saturday – WinterFest Seminars 9AM-3PM
Saturday: 9AM-3PM: All day workout. . . Traditional Uechi-ryu, Okinawa traditional weapon training, Grappling, Sport competition, Standup-Jujutsu, Realist "mindset" training and much more.
Sensei Mattson will be conducting speed, reflex and power competition utilizing Herman Trainer, throughout the day. Lunch from 12 – 1PM Served at the facility.
3PM – 6PM: Free time to enjoy the sights and sounds of Mount Dora.
Saturday evening: Everyone is on there own for Dinner. Great restaurants near by.
+++++++++++++++++++++++++++++++++++++++++
Sunday
Sunday: Dan tests, Adult weapons and Uechi seminars. 9AM-11 Noon on the patio.
Sunday: 9am– 12 Noon. Junior Class .Inside, open practice from 1:30PM – 3PM
Tuition, $150 per person for the 3 days,
children under 14 years old, $35 per day.
Day Pass $100 per day for a Friday or Saturday.
$35 for Sunday.
==============
Presenters: Posted as they are confirmed: George Mattson, Darin Yee, Tim Dando, Patty Dando, David Berndt, Roy Bedard, John Spencer, George Schriefer, Joe Guidry, Harry Skeffington, Tom Bentley, Dan Del Sonno and Greg Postal.
=============
Kata Bunkai – Most Uechika understand applications of kata only on the most rudimentary level (e.g. 'turn, block, counterpunch'), practicing kata and self-defense techniques in isolation from one another as if they were completely separate entities. Learning to interpret kata movements in more advanced/sophisticated ways and then drilling those applications with a partner facilitates significantly greater progress in self-defense techniques inherent in the Uechi-Ryu curriculum. After learning and drilling some applications in the seminar, we will move to some general principles of kata bunkai; tools which should allow students to utilize this learning process in future training.
Yakusoku Kumite – Every drill has inherent limitations, often deliberately built in to allow fairly realistic training without serious injury to practitioners. Mistaking these representations for reality, rather than training method can lead to complacency and overconfidence however dispensing with these drills in favor of only jiyu kumite results in an equally flawed practice. Instead, by training kyu or dan kumite while varying distance, timing, speed, etc. one can develop significant improvements in real world self-defense application that static, stilted versions of these drills cannot achieve.
Discussion, training and application of the Bo staff (six foot stick), the Jiffa (hair pin/fastener) which is also known as a Tinaka (small inside hand weapon) and the Jo, as they relate to martial arts training and more specifically to Uechi Ryu training and development. The focus will be on body movement and the development and application of power.
The weapons training complements and supplements good Uechi training by the utilization of the whole body – arms, shoulders, hips, legs, etc.,. Applications of the techniques will demonstrate the interrelationship of weapons and empty hand movements as they relate to the effective execution of Uechi movements. Hopefully, all attendees will leave with a better understanding of the Uechi system and an improved ability to execute their Uechi techniques.
This is going to be a fantastic year. Make your plans early to be part of the action. If you have any questions, please feel free to e-mail me.
Best,
George E. Mattson