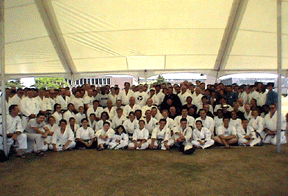 JULY 10th, 2014 Update
I just updated this year's Scheduling and Information sheet. We are going to be running the seminars in a new and hopefully innovative manner. I'll be sending out a general newsletter to all my mailing list this weekend. If you haven't received a newsletter from me in the past couple months, chances are you aren't on my list. Be sure to send me an email with your name and email address and I'll make sure you become a member of my general newsletter mailing list. This year is shaping up to be another fantastic event. I hope you are planning to attend. I promise that you will have a great time and will learn a great deal about Uechi-ryu and other compatible martial arts.

---
After the 2013 SummerFest, I sent out a survey that resulted in over 125 replies. The survey listed all the seminars categories we offered that year. I asked the camp participants to rate them 1-10, based on their interest in the subject and desire to take the class. (10 being the rating of most interest, 1 the least) I wasn't surprised to learn that self-defense topics were the most popular and was surprised to learn that there was very little interest in exercise categories.
I received quite a few "suggestions" that we have fewer seminars every hour. Participants didn't like having to choose between five or six seminars, when they wanted to attend all of them!
So this year I am going to try a couple of new and different ways to run our SummerFest event. Friday, because of the smaller attendance, we will be featuring only one major seminar every session. Presenters that are not conducting a seminar will be available at the training stations to provide instruction or answer questions.
Saturday, which is always super busy, will be run in a more conventional manner. Because of all the super Presenters available for seminars and only five sessions, we will probably have five or six seminars scheduled for each hour. I'm working on the schedule and will post it soon.