ALL RANKS, ALL MARTIAL ARTIST ARE WELCOME
2019 Uechi-ryu WinterFest
March 1 – 3rd
The on-line application w/payment now available
Mount Dora Plaza Shopping Center (Next to the facility)
2800 W Old US Hwy 441
Mount Dora, Florida
Click Here for map from Orlando Airport
Note: We are working on updating the Winterfest site. Please check back soon and if you are not on our mailing list, please send your email address to gmattson@uechi-ryu.com. I will send updates to you as developed.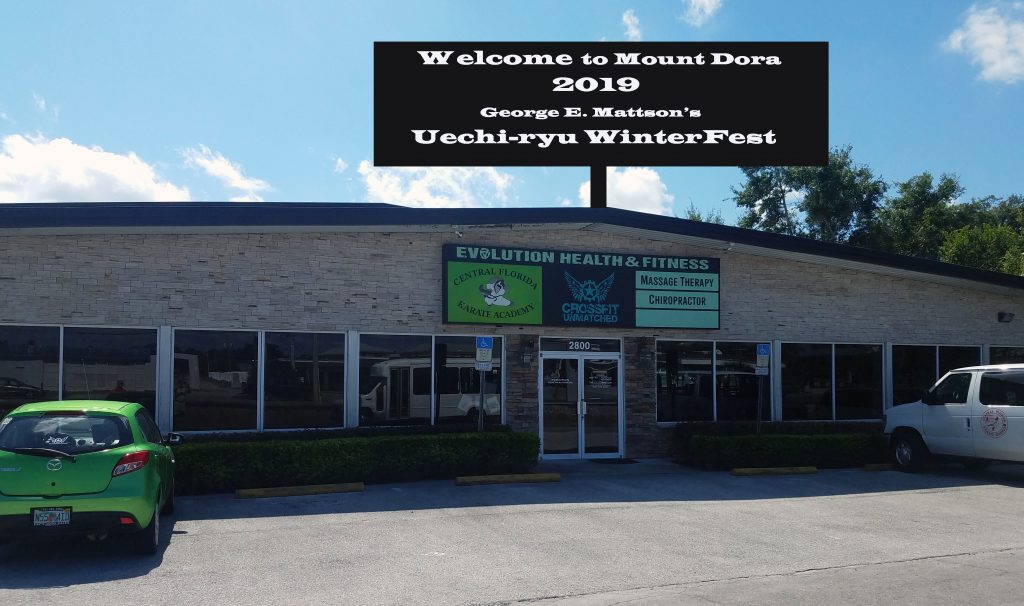 Sunday: Dan tests, Adult weapons and Uechi seminars. 9AM-11:00AM
Tuition, which includes lunch on Friday and Saturday: $150 per person for the 3 days,
Day Pass $100 per day for a Friday, Saturday or Sunday.
Black Belt tests will be held on Sunday.
Junior workout on Sunday, 1pm – 3pm
Friday evening party: 7PM- 11PM: Party at 1884 Restaurant in Eustis.
Presenters: Posted as they are confirmed: George Mattson, Darin Yee, Lee Adams,Tim Dando, Patty Dando, David Berndt, Roy Bedard, John Spencer, George Schriefer, Joe Guidry, Harry Skeffington, Tom Bentley and others, to be announced.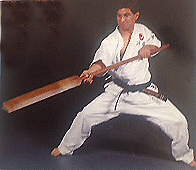 I am pleased to announce that the 2019 Uechi-ryu WinterFest will again be held in the beauiful city of Mount Dora, Florida.

This event is sponsored by Mount Dora Parks and Recreation.

Besides a stellar cast of Uechi-ryu masters, who will be conducting seminars, This year we are honored to be hosting Tsukasa Gushi, sensei, who will be teaching the Kobudu made famous by his father, master Shinyu Gushi.

WinterFest will be held March 1st – 3rd, 2019 (Friday, Saturday and Sunday) from 9Am- 3PM with lunch from noon to 1pm.

Tuition: Two or three days -$150. One day – $100
Kobudo schedule
Friday– staff fundamentals, seijuno bo and other bo kata(s) critiques.
Saturday– review of staff,….then oar (can use a staff).
Sunday– giffa and sai. Review of seijun no bo, eku ,giffa and sai.
The weapons training complements and supplements good Uechi training by the utilization of the whole body – arms, shoulders, hips, legs, etc.,. Applications of the techniques will demonstrate the interrelationship of weapons and empty hand movements as they relate to the effective execution of Uechi movements. Hopefully, all attendees will leave with a better understanding of the Uechi system and an improved ability to execute their Uechi techniques.
I'm also very pleased to announce that Lee Adams will be attending WinterFest and will be conducting the following special seminar:
Tai Sabki – Body Avoidance
Using Un Soku ( Foot Movements) as a training aid Using 6 direction avoidance pattern to practice
Kazushi – Balance breaking
Understanding Kazushi using both physiological and physical balance breaking
Ju Nanahon Randori no Kata
17 techniques demonstrating – Avoidance, breaking balance and control using the following attack modes:-
Atemi
Katate Dori
Applying the learnings above to Dai ichi Yakusoku Kumite ( 10 Techniques)
Variation of techniques using non linear applications
This is going to be a fantastic year. Make your plans early to be part of the action.
If you have any questions, please feel free to e-mail me.
Best,
George E. Mattson
Good web resources:
Mount Dora: What you need to know
Points of Interest in Mount Dora: