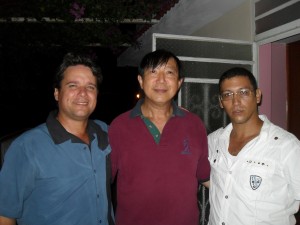 I will be going back to Cuba on September 29th and returning home on October 13th.  I'd promised to visit them once a year.  During that time, I have been asked to preside over dan promotions, conduct seminars and play a little golf. I may have a chance to visit their beaches this year.
Instead of teaching in one location as I've done in the pass, where all the dojos come together to work out, I will travel to visit their dojos.  Transportation is still a little behind the times and some of the practitioners traveled 2 days by bicycle to get to the seminar.  They have secured a motored vehicle to get me to the country side.  This will make it easier for all concerned. I will also inquire if American driving licenses are accepted in Cuba. If so, I will rent a van.
The real purpose of writing this is to invite any IUKF members interested in Cuba Uechi-Ryu to join me.  You will be responsible for your transportation there (plane ticket), cost of room and board (which they will arrange for you @ $30 to $40 per day) and contributions for transportation (auto rental and petro is very expensive there.  Please write (darinyee@hotmail.com)or call me (508/958-7000) if you are interested as there are a lot you need to know prior to making you definition decision.  If you go to Cuba as a regular tourist, things would be a lot different.
You must realize Cuba at this time is a poor country.  This trip, you will live among the locals in much of the same conditions they are accustomed to.  We can find you a room with air condition but that is the only place you will have relief from the heat.  There are only 2 weather conditions in Cuba.  It's hot and hotter.  You will sweat during the 2 hour workouts.  The audience sweats just from watching.
If you intend to participate in our IUKF Cuba trip, please contact me and we can include you in our plans.  At this time, I have my tickets in hand.  I am flying Aeromexico leaving Boston Logan Airport to Mexico City.  From Mexico City, I will fly into Cuba.  In the pass, you can purchase a Visa at the airport in Mexico.  Not sure now how it's done.  I will find out and let you know.  I will go through the same process when I come home.  You will need a Passport and proper ID such as a driver's license.
For more info, contact call me and I can discuss matters further.  Contact information listed above.
Darin Yee
8th Dan-Hanchi
VP- IUKF