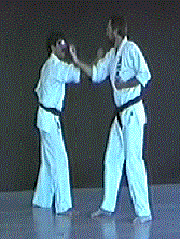 This is the first instructional video tape made on Uechi-ryu and one of the first on any martial art system. For many years it was the most popular video and later, when converted to DVD, continued to be the most popular title in the Uechi store.
When I decided to have the original tapes professionally restored and edited, this "Overview" tape was selected to be one of the first to undergo the full treatment. The finished product is a quality two DVD set that covers the "core" Uechi system along with over a half hour of timeless quality tips and suggestions for learning this great karate system.
CLICK HERE OR ON ANY PICTURE TO ORDER THE NEW "OVERVIEW" DVD SET.