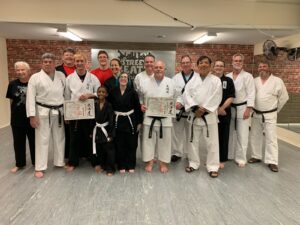 Recently 9th degree and newly appointed president of the IUKF, Darin Yee, paid a visit to our school in Knoxville, TN. It is a privilege to be able to learn from Master Yee's vast knowledge from not only Uechi-ryu but also his many other martial arts styles.
These influences are easily seen, especially Wushu and Wing Chun, when exploring the soft side of Uechi-ryu. Even though most original styles of karate advocate being both a hard and soft style, through the years of evolution of karate, many styles have the lost the soft side. Master Yee's seminar focused on the soft side of Uechi-ryu.
The soft side is an overlooked and important facet of Uechi-ryu. This is especially true in today's modern karate where women and children are an intricate part of the dojo. The soft side gives a smaller or weaker individual the ability to defend themselves against a bigger, stronger attacker. No matter how big and strong you think you are there's always a chance your attacker is bigger or stronger.
At our school we are always looking for a deeper understanding of movements, looking for bunkai not typically associated with the movement or set of movements in a kata; throws, takedowns, or a strike that could be a block and vise versa. Master Yee's insight into the soft side of Uechi-ryu has given us new techniques to add to our repertoire, but more importantly help open our minds to even further explore the depths of Uechi-ryu.
Thank you Master Yee for taking the time to share your knowledge with our students at the Knoxville Uechi-Ryu School. Please feel welcome to come back and share your knowledge and friendship whenever you are able.
Thank you,
Knoxville Uechi-ryu