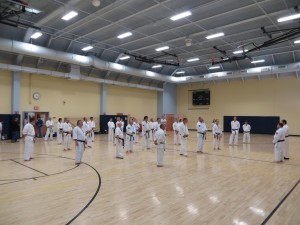 Our all ranks regional workout, this past Saturday, was a great success with an attendance of 45 hard working practitioners. Uechi enthusiasts from Maine, New Hampshire, Rhode Island, Connecticut and Massachusetts attended the afternoon workout. The after workout dinner at Morse's was attended by over 20 workout participants and a good time was had by one and all.
Our workouts are catered primarily to Uechi-ryu students of all ranks. While primarily Uechi-ryu focused there are many who practice different styles related to Uechi-ryu and are willing to share their knowledge and skills. Folks got to practice their Uechi in different ways and with different partners than they do in their home dojos. This sharing of ideas enhances our understanding of Uechi-ryu as well as enhancing our martial arts skills.
I want to give a special thanks to Senseis John Spenser, John Griffin, Tom Piacentini and Ralph Cohen from Connecticut; Sensei John M. Scully who came all the way from Maine; Sensei Christian Maine who came from New Hampshire; Sensei Henry Tow from Rhode Island and all our friends right here in Massachusetts. I also want to thank Sensei John Hwee, Chief instructor at the Boston University Karate Club. Our regional workout success is built upon the diverse ranks, stylists and ages of attendees who share their experience and skills.
We are planning the next regional workout for June 2015. When a date is set, we will email date, time and location to you. Please forward to to anyone you feel would be interested in attending.
Thank you to everyone who attended our regional workout. If you enjoyed yourself, tell your friends and join us for a physical and educational Uechi workout.
For those who came and enjoy our regional, please make time to join us for all our activities and bring your friends Uechi-Ryu.
Respect, Honor and Strength,
Darin Yee