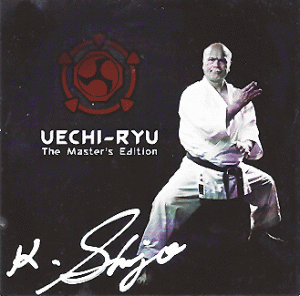 Shinjo Kiyohide and Shai Hai produced this exceptionally interesting and important DVD during Kiyohide sensei's recent visit to Israel. I highly recommend the DVD to all martial art enthusiasts and of course. . . a "must have" for all Uechi-ryu practitioners.
The Master's Edition is a a martial arts film/artistic documentary that reflects the inner world of Japanese master Shinjo Kiyohide, a modern day Samurai and living Karate legend.
This unique glimpse into the world of the Master is like a treasure in a chest into which we are rarely granted the privilege of looking inside.
This film depicts ancient practical knowledge in a wide range of impressive and innovative demonstrations, a profound, forgotten philosophy and living and learning guidelines that will help the viewer, regardless of his or her background, to understand the "Aji", that secret ingredient, that personal touch, that rare quality, that unknown element that transforms an ordinary person into an outstanding individual, a true master.
Please contact Shai Hai Sensei for information on how to order this really great DVD:
kenyukai.il@gmail.com