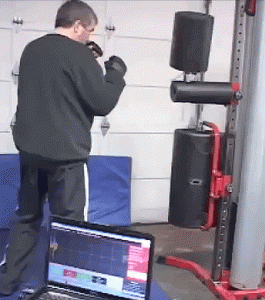 The NEW wireless Herman Interactive Training System is now available! Click Here to access the new site.

---
My favorite training tool of all time is the Herman Trainer! I introduced it at the 2010 Summer Fest. Harry Skeffington set up the software and I set up the testing components and logistics.
Darin Yee had a punching device (Bob) that I attached the sensor to and Harry programmed his laptop to pick up the impact signals from "Bob" and translate them into power numbers. Each competitor hit "Bob" with two punches and two kicks within a 15 second time period.
Roy Bedard killed "Bob" with power that almost went off the chart. That was until Robb Buckland took his turn. Fortunately "Bob" held up to the punishment, but heavy as it was, Robb actually made "Bob" jump off the floor a few inches with every hit. No question as to who is the strongest puncher and kicker at that year's SummerFest!
We will be setting up "Bob" again in August to see if anyone will be able to best Robb's record.
=========================================================================
If you would like to incorporate My Herman into your dojo or to use at home, check out our information site by clicking HERE. The manufacturer is extending a $50 discount to my friends who visit Uechi-ryu.com. [Store Link]