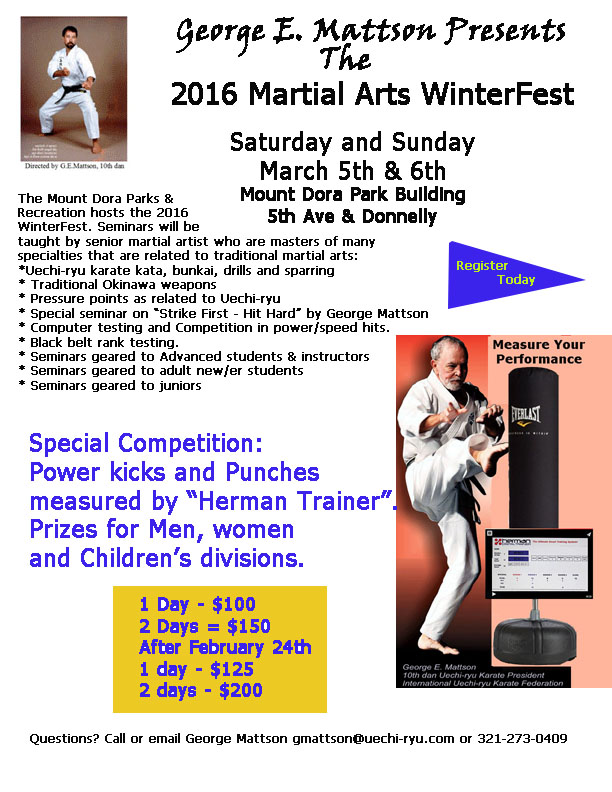 Hi to all my martial art friends:
Tired of shoveling snow and dealing with the freezing cold weather?
You deserve a mini vacation to warm and beautiful Mount Dora Florida. . . .
As an added bonus, why not sign-up for a special weekend working out and training with George Mattson and a really great group of senior Uechi-ryu instructors. If you are a golfer, we will be playing a round on Friday afternoon at the "Old Course" in Mount Dora.
In addition to traditional Uechi-ryu training, there will be Okinawa weapon training and very interesting test of speed, strength and power, using the all-new "Herman" impact system. You are going to love this test!!!
Of course, Mattson's "Fests" wouldn't be complete with the Saturday evening festivities, sightseeing and get-togethers with old and new friends.
1-5th dan tests will be conducted Saturday afternoon, following the workout. Applications and fees must be submitted to Test Administrator, Harry Skeffington, at least two weeks before the test.

OK. . . All that is left to do, is for you to click here and register for this fantastic weekend!
Upcoming Events

WinterFest – March 5th and 6th, 2016SummerFest – August 5 – 7,  2016. Make plans to attend the premier event in the Uechi-ryu world.