I am very please due to the outcome of our regional workout which Sensei Pat Saunders hosted for December 1st 2012.  The turn out was exceptional and we were blessed with the attendance of some of the best Uechi-Ryu practitioners in our area.
There was a lot of sweat as a workout should be.  No one puts on a gi to hear another talk the entire seminar.  We also had a chance see and understand much of what other senseis teach as everyone was respectfully given the opportunity to demonstrate their creativity.  We will post some of the pictures and maybe a few of the recorded techniques.  Please feel free to use and teach any of the bunkis you enjoy from our workouts.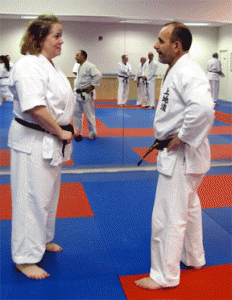 We got the chance to workout with many whom we respect but have not seen for a long time.  We met many whom we did not know and now form a new relationship.  Most important of all, we had an opportunity to meet some of the young, up and coming superstars for our system.  I believe it is of the utmost importance to expose them to all the great minds of our Uechi-Ryu system.  I encourage all our senseis to promote our workouts to their young students.  This may help spark and promote your own dojo workouts.
Our next workout is March 9th at "The Hut" hosted by 2 of our old time greats.  Paul and Vinny has been around forever.  I will list their workout and their starting time as soon as I find out.
Again, congratulation to Sensei Pat for a great kick off.  I've receive nothing but positive feed back regarding every aspect of this workout.  Please be reminded if you are a supporter of our workouts, please do not hesitate to give us your feedback positive or constructive suggestions.  Every host dojo will decide on their own workouts and regardless of rank, we are there to workout.  If any participating dojo want to be a future host, please write to Darin Yee at darinyee@hotmail.com., Pat Saunders at  kodora0317@aol.com., or Christian Maine at whitemountainkarate@gmail.com.
GREAT JOB PAT!!
Darin Yee