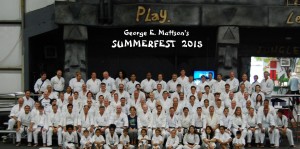 I want to thank Sensei George Mattson and all the participants for another successful Summer Fest.  It has always been a pleasure for me to see so many of the seniors whose spent a greater portion of their lives training, developing and sharing their individual skills and knowledge in this fascinating and adaptable art of Uechi-Ryu.
There is only one path for strong and hard which is straight forward, non-yielding and the development of more macho strength. In soft, the applications depends on the technician and his/her skill level.  One must listen and learn from masters who have been around for numerous decades and determine if their accumulated knowledge can benefit you.  As we age, the "hard" turns to "aches" and we must now rely on "soft".  There are no better ways to learn about the soft than from the masters who has trained in the soft method for years.  When we find out we're too mature (old) to continue training, it could be too late.
This camp provided all of that.  There were masters who have been incredibly strong and powerful their entire careers teaching their hard, power techniques.  There were masters who have trained both the hard and the soft teaching us how to overcome bigger and physically stronger opponents.
The Junior Fest was also well attended.  There were all kinds of workouts and competitions where everyone had a chance to win and bring home individual and team prizes.  Due to the size of the indoor air-conditioned facility, there were individual running races and team relay races.  There were kicking, punching contest and sparring matches (for those who wanted to spar).   A great time was had by all.  Next year, I am expecting to triple our participation for Junior Fest.
I fully understand there are a few who believe they have a great sensei and they practice what they are taught.  That loyalty is very commendable but no single individual knows everything.  I've studied martial arts since 1960 and I'm still amazed at some of the incredible and talented people who come to the Summer Fest and share their knowledge and accomplishments.
Remember to keep the first week end of the first full week of August in your calendar reserved for the Summer Fest of 2016.  It gets better every year.  Meanwhile, I'm setting my sights on Winter Fest in Mt. Dora, Florida.  We get to meet some of the big names from down south.  It's a great way to get away from the cold of the Northern States and spend a few days golfing and finish off the week with 2 days of karate and a group of good friends.
Darin Yee