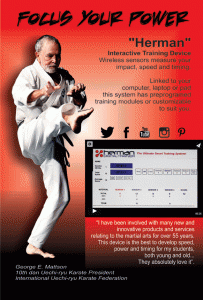 I've been sent the new wireless unit to test out and must say that it works great. . . for an entirely different audience and purpose than the original "wired" sensor unit.
The wireless sensors are sturdy and weight about 1/2 oz and measure 1″X2″ and are 3/8″ deep. Being wireless gives the program tremendous versatility. Because the programs are created on the internet, you cannot alter them. You press "go" and the programs run. A voice gives minimum commands. . . "go" "stop" but do not interact with the participant like the old unit does.
The new unit has possibilities that the wired unit does not have, like hooking up the sensors to body armor during a sparring session and having the computer help in the judging by recording the first strike and/or the hardest one. No graphics other than a simple menu of measurements.
I would use the new unit to experiment with class, team and partner competition. My students liked the original system and absolutely love the new one. Every dojo should have at least one for training and testing purposes. Individuals will find the system perfect for monitoring their progress and individual workouts.
===================================
Prices for the wireless units:
For the single sensor unit – $125
For the 2-sensor set –  $250.
For the 4-sensor sets –  $450.
CD with programs you can download to computer or iPad, Kindle – $20 (for use without wifi)  Systems are available now