Juniorfest is a special program held at the Summerfest weekend
by Darin Yee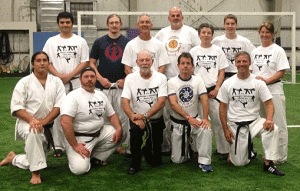 An announcement to all Jr. Campers for this year's George Mattson's summer fest event.  Students of all ranks are welcome.  The date is Saturday August 8. The day starts at 10am with warm up exercises and our workout continues to 11:30 when we stop for lunch.  Camp will resume at 1pm with games and friendly team and individual competition until 4pm.  Medal will be awarded to first place in both team and individual competition.
We've all had a blast last year with a day filled with activities and fun. Please come back and join us August 8th and bring a friend if you like (they should be karate students) all ranks are welcome.  Ages are 13 and younger.
The cost of this all day camp is $50.  Each participant will have a group picture with sensei George Mattson and one with the entire camp sent to them via email.  Sensei George Mattson will also set aside time to photograph and sign autographs for the children.
If you plan to attend this years summer fest, please announce our summer activities to your jr. members. They'll have a ton of fun and team up with students from other dojos at our jr. fest.
For more information, please contact me Darin Yee at darinyee@hotmail,com.  Bring their gis, and sparring equipment.  If someone forgets, I will have extra equipment they can borrow.