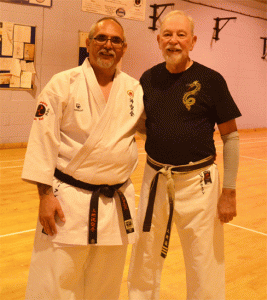 This is the first opportunity I've had to discuss my trip to Great Britain and to formally tell all my old and new friends there what a wonderful time I had. Two all day seminars wore me out, but the Guinness after-workout-therapy sessions revitalized me completely! 🙂
The trip was made even more special because old friends and students, Al Wharton, Terry Daley, Steve McNally (Senior and Junior), Kuda Adams, Mick Pappas, Richard Dean Gibbons, John Neal and Steve Clifford were able to attend and worked out with me at the seminars.
Lee Adams and his "Life-mate", Susan were especially gracious during the week and most helpful in organizing the event and making sure everything ran smoothly.
Al Wharton, who is now living in England, recommended Lee to be tested for Rokudan along with two of his Burmuda students who attended the seminars. Richard Gibbons for Godan and John Neal for Yondan. I assembled a test board consisting of myself, Al and Mick Pappas and conducted the test following Sunday's workout. All three passed and were praised for their strong and accurate kata performance.
For those of you outside of England who don't  know Lee, let me share some of his martial art history: He started Judo Training in 1968 at a Dojo in Farnham in Surrey, then moved on to Wado-Ryu Karate with Sensei Barry Wilkinson, and trained with Sensei Tatsuo Suzuki, and even had the honour to train with Grand Master Hinori Ohtsuka founder of Wado Ryu.
After gaining his 1st Kyu, changed styles and started studying Uechi – Ryu Karate in the late in the early 1980's under Sensei Nigel Coole who had been training in Hong Kong, and then Sensei Terry Daly in London., after gaining my Uechi Ryu Yon Dan in 1995 I started to supplement my martial arts knowledge by studying Tomiki Aikido I currently hold the rank of San Dan ( testing for Yon Dan next year) I am also a director and current vice chairman of the British Aikido Association.