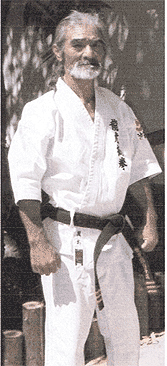 Dear Friends,
It is my honor and pleasure to host Okinawan Karate and Kobudo Master Shinyu Gushi for a weekend seminar October 23 & 24, 2010, at my dojo in Milford, MA. Come join us for an informative and enjoyable time.
Master Gushi's senseis, all direct students of Kanbun Uechi, included Saburo Uehara, Seiyu Shinjo, Seiki Itokazu, and Kanei Uechi. Master Gushi is known world wide and his Sanchin gami physique photo as a teenager is famous. He is truly a Uechi treasure.
I am also happy to announce that my friend and fellow student of Master Gushi's, Kirk "Makoto" Fukumoto, 6-Dan, RyuKoKaku Karate and Kobudo Association, will be on hand to assist Gushi sensei including any translating as may be necessary.
Come join us for an interesting and fun seminar and wonderful camaraderie.
Best Regards,
Joe Graziano
PS. For more information, send Joe an E-mail