From Nidan to Sandan, Virtually.
by Dan Maestas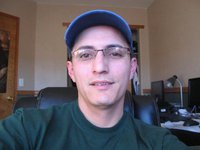 We, as a society, have become extremely reliant on a virtual world. Many products and services are offered and delivered from a nonexistent entity, the internet. Sports fans play fantasy sports, businesses conduct virtual meetings and students can even get a college degree online. But what about learning karate via a virtual dojo, is it possible to learn an art by some remote method and become proficient. That is what George Mattson set out to find out when he started the Mattson Academy Virtual Dojo and I was one of his first students to give it a try.
I started studying Uechi Ryu in 1990 under the instruction of Steve Vosa (please excuse the informality, no disrespect is intended by referring to him by his name). Steve Vosa was an excellent teacher and under his instruction I earned up to the rank of Nidan. After earning the rank of Nidan, my martial arts training seemed to plateau. There were a lot of factors which contributed to my plateau. Some of it was time constraints and other factors were mental or physical. Needless to say I grew frustrated and decided to take a hiatus from martial arts.