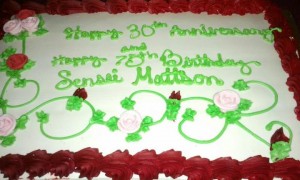 I forgot when I created the first martial art website. It was quite primitive to be sure, but I realized the internet was something that I should explore and make part of the Uechi-ryu community and I was eager to become part of that group of pioneers who experimented with this technology.
During those years my web creations took many forms. I actually enjoyed playing around with the newest and most creative methods of communicating with the martial art world. Today marks another milestone in the Uechi-ryu website which includes newer and easier way to manage the site, enabling more of my friends and associates to contribute directly to the site's content.
This month (August, 2012) also marks the 30th anniversary of my Martial Art SummerFest! We celebrated this occasion with a record number of senior Uechi practitioners attending and a Masters Celebration with a record number of awardees.
Without my knowledge, Susan and my friends decided that they should combine celebrating the SummerFest anniversary with my 75th birthday, which doesn't happen formally until September 12th. Allan Azoff decided that a dual celebration deserved a king-size cake and brought one to the post Masters Celebration party.
Although I fully expect to live another 50 years, I have decided to share more of the work and responsibilities of IUKF and other martial art activities to others. In addition to creating a hard working Board of Advisors in 2000, headed by Dr. Paul Haydu, I've just appointed Darin Yee as Vice President of IUKF. As his first assignment, I asked him to appoint a new committee, in charge of Titles and Awards.This committee, headed up by Dr. Joan Neidi and Jim Witherell, approved three titles for 2012.
I hope you enjoy the new website and will contribute to it whenever possible.
Lets work together and enjoy the exciting future ahead for Uechi-ryu.
George E. Mattson
President, IUKF