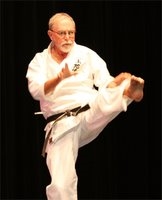 Tried my best to post a large photo of my M.A. SummerFest Newsletter here, but kept messing up the home page. I'm tryuing to disprove the old saying "You can't teach an old dog. . .", but after a dozen tries, finally gave up.
This newsletter will be the only information notice that will be going out to those on my mailing list. If you aren't on my general mailing list, please Click Here and sign-up. I only send out a newsletter occasionally, and certainly would never give anyone access to my mailing lists.
And if you would like read this special edition newsletter, Please click HERE. It is a pdf file, which can be opened with a free Adobe Acrobat viewer.
Please talk-up the SummerFest in you dojo and try to get a gang to accompany you to this year's camp. I promise you will have a great time, learn a lot and meet the most pleasant, friendly and helpful martial artist in the world!