2012 Summer of the Tiger
Martial Arts SummerFest
IUKF Masters Celebration Saturday 7-9PM
Inductees:

8th Dan: Henry Thom, Peter Blackman, Bill Bauknecht
7th Dan: James Witherell, Rosario M. F. Rizzo, John Felipe, Paul Giella,
6th Dan: Fedele Cacia, David Berndt, Gerry Gross, Robb Buckland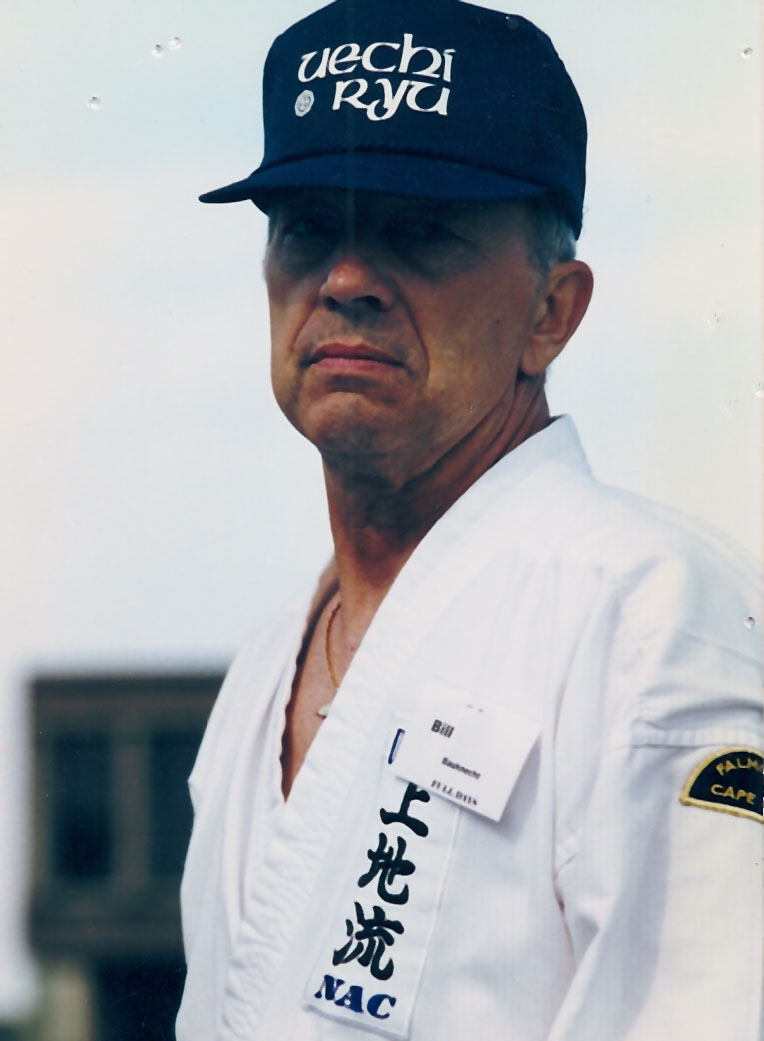 William E. (Bill) Bauknecht I was raised on a farm with all the other animals. One sibling, older sister who passed when 47 yrs old. I attended and graduated from Milford High School in 1955 along with 58 others. (Mostly human)
Enlisted into U.S.A.F. August 10, 1955.Honorably discharged in 1961. Acquired highest security clearances after being accepted into Security Service and spent two years with a mobile unit in Alaska. This time was spent "playing games" with the Russians and working directly with National Security Agency at Fort Meade, Maryland. After my discharge, I worked as an insurance investigator in Ohio until moving to Cape Cod in 1963.
During the 50's, my brother in law (USAF) and family was stationed at Otis AFB; I spent some time in SAC, stationed at Westover Field in Springfield, MA. My parents would come to the Cape on vacation and I would drive over for the week ends. We all became well acquainted with the Cape. In 1959 my parents bought a small business in East Falmouth. They rented a few small boats, sold fishing tackle and bait, wholesaled and retailed shellfish, lobster, live and cooked and especially made our famous Green Pond Stuffer. A stuffed quahog known not only locally but even out of country.

In 1996 I was diagnosed with multiple myeloma cancer and have continued to battle that disease and it effects since then.
Over the years I have been asked how I have managed to survive this disease for so long. Even the doctors can not answer that question, but I can, and after discussing this with the doctors and all others who have treated me, here is my story. Number one is my loving family, my Suzie who has been at my side through it all, 54 years and especially the last 16 1/2, My kids and all their love and support and the many friends who were there for me. It all gave me something to live for. Truthfully, there were times when I wondered if it was worth going on. It was those times when I would think back to when I walked into Art Rabesa's dojo and started my Uechi training almost 40 years ago. To me, that was the beginning of my preparation to both mentally and physically, fight the fight that was waiting for me down the road. Art Rabesa, sensei, brother, taught me Uechi Ryu and worked me and all his students, hard, and I loved it as it gradually became my second family, I had opportunity to work with Sensei Mattson and his and Susan's support meant much to me. George got me back out on the golf course. Working with Van Canna, Bob Bethaney and Art in Brockton in the one room "Torture Chamber." Taking their time to help me get some parts working again. They will never know what that meant to me, again giving me reason to keep going. My years of training and teaching are a big reason I'm still here. I am no exception; there are many of us training and teaching, doing so with illnesses, handicaps, injuries. I hope that we inspire others to work hard, never give up, and most of all, give of  yourself. I am so fortunate to have gone through some tough times, it has made me a better person and I hope that I have given something back to Uechi Ryu, just a fraction of what the family of Uechi Ryu has given to me.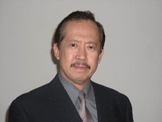 Henry Thom– 8th dan: Henry joined the Mattson Academy in 1965 and received his Shodan on March 1, 1967. More than 45 years ago. he was tested for Shodan in front of both Sensei George and Walter Mattson.
Henry started practicing Uechi-ryu for self defense but gradually got into tournament fighting.  Henry states: "I remember fighting in Rhode Island and the Madison Square Garden tournament back in the 60's.  Even though I didn't get too far into the eliminations, it was quite a memory".  Besides Uechi-ryu, Henry also studied a little Hung Gar and Northern Shaolin Kung Fu, and some Jujitsu a few years ago. Henry states that "Being awarded the 8th Dan is an achievement I never dreamed of". Check Youtube for about a half dozen short video clips on alternative Bunkai movements. Henry retired as a Civil Engineer 2 years ago, His work included a stint in Saudi Arabia and China. Since retirement he has been spending a lot of time on the driving range trying to hit those little balls. Henry's son is a Massachusetts State Trooper. He has a daughter in Florida and another son attending UC Davis, plus 5 grandchildren, two who are attending the Mass Maritime Academy.
When asked how the martial arts and Uechi-ryu in particular affected your life, Henry replied: "The martial arts has given me the confidence I needed for my daily activities and especially when working overseas and travelled on business". Henry's martial arts ambition include "Expanding IUKF in California".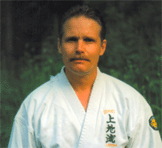 Peter Nye Blackman: Peter was born in Quincy, MA 1952. His Mother's parents were from Italy.  Grandfather was a stone sculptor .  His Father's ancestors were from England and were direct ancestors of John Alden who settled in Plymouth ;Ma. The Blackmans were one of the founders of the town of Canton, Ma in the 1700's and worked with such people as Paul Revere in the Blacksmiths trade.
Peter started Uechi Ryu in 1977 with Mattson Academy  for physical fitness and self defense.  The Dojo was a very competitive place to train and he admits that he was lucky to have exposure to some of  the best instructors at that time such as Arthur Rabesa,  Van Canna, Jim Malone , Robert Campbell  and Jack Summers to name a few.
Peter adds: "I have always been a dedicated Uechi practitioner and have studied and observe other styles to broaden my spectrum". When asked: what to you, are you most noteworthy martial art achievements?, Peter replied: "I have studied  Uechi Ryu  for over thirty five  years on the physical and  mental aspects of self defense,  I have taught  seminars in "Street Smart" in various Dojo and at the Summer Camps  for the past 25 years.  The" Street Smart" seminars were a result of being a victim of carjacking in my young teens, with no training to rely on".
Peter is a Commercial Graphic Designer and Artist and the owner of Blackman Design, specializing in custom auto graphics, motorcycle art, pin striping, air brush art and gold leafing. His hobbies are oil painting on canvas, photography and landscaping design.
Peter has a lovely wife and has been married for thirty seven years. They have two beautiful, kind and thoughtful daughters. His youngest is a Nursing Student who works as a nurse assistant. His oldest daughter is a professional model, actress and a stunt woman for the movie industry. Peter added: "Best of all, they are happy and I feel blessed".
When asked how the martial arts have changed his life, Peter replied:  "I have to say that all my great friends are Uechi people and through the martial arts I have learned much about life. My training has giving me self discipline, but I could not imagine what or where I would be without it. Uechi-ryu has made me understand the clues to a better understanding of what life has to offer and trying to associate it with my life as a Martial Artist and to be a better person. The Martial arts has transformed me into a person with a fulfilling life and I will continue to learn and then teach all that I know and believe in.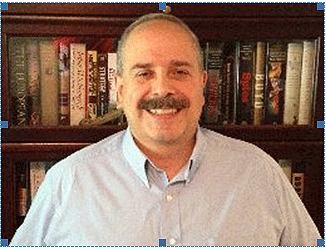 Rosario M. F. Rizzo, known to his friends as Mario, began his study of Uechi-Ryu Karate in June 1972 at the age of sixteen at the Mattson Academy of Karate on Cambridge Street in Boston.  He began the study of Uechi-Ryu at the request of his father, who had studied with George Mattson in the early 1960's.  Primarily a daytime student while attending college, Mario was awarded his Shodan in November 1977.  His primary teacher during those years was Tim Horgan, with the support of George Mattson and Robert Campbell.  Mario has continuously practiced Uechi-Ryu since 1972.  Since the mid-1980's, George Mattson has been his instructor.  Mario presently studies Uechi-Ryu at the instructor's program established by George Mattson at the Hut in Newton, Massachusetts.
Mario immigrated to the United States from Sicily in 1958 and grew up in Everett, Massachusetts.  Mario graduated from Harvard University in 1978 with a Bachelor of Arts degree in Government.  He received his Juris Doctor in 1981 from Boston College Law School.  In 1984, Mario earned a Master of Public Health Degree from the Boston University School of Public Health, a division of the Boston University School of Medicine.
Mario served in the U.S. Air Force as a judge advocate.  He served eight years on active duty and sixteen years as a member of the Air Force Reserve.  During his service he was awarded the Air Force Meritorious Service medal, with four oak leaf clusters, the Air Force Commendation Medal, the National Defense Service Medal, with one service star, and the Global War on Terrorism Service Medal.   He retired in 2010 with the rank of Lieutenant Colonel. Mario is an attorney in general practice in Concord, Massachusetts.  He is licensed to practice in the states of Massachusetts and New Hampshire, the U.S. District Courts for Massachusetts, New Hampshire and Arizona, the First Circuit Court of Appeals, and the U. S. Tax Court.
Mario and his wife, Andrea, have two daughters, Francesca and Giulia. Uechi-Ryu has played an important role in Mario's life.  He began his study as an uncoordinated and marginally athletic high school sophomore.  Uechi-Ryu taught Mario how to become athletic.  As a result, while at Squadron Officer School, at age 32, Mario tested at the Air Force's top fitness category.
An important aspect of the study Uechi-Ryu is the ability to analyze a situation and react accordingly.  The Base Commander at Little Rock Air Force Base commended Mario for using reasonable force to stop a domestic assault in the base headquarters building.  Mario's measured response avoided serious injury to the victims and the assailant and led to the arrest and prosecution of the assailant.
For Mario, the key to the study of Uechi-Ryu is learning to understand your body.  A practitioner's martial arts capabilities are dependent on his physical characteristics and capabilities at any point in time.  A younger person will always have physical advantages over an older person, but an older Uechi-Ryu practitioner who harnesses his capabilities and operates within them can be more effective.  Every person is unique in height, weight, strength, speed, and flexibility.  To obtain maximum performance, a Uechi practitioner must work on finding his physical limits and work within those limits.  This does not mean that one should not train to become stronger and faster and achieve better overall physical condition.  Rather, this means that a practitioner must be realistic, striving to maximize his physical capabilities within his natural, personal limits.  To use an analogy, Larry Bird was slow and could not jump very high, but few have ever played basketball at a higher level.  Therefore, while most of us can never be Bruce Lee, we each have the ability, in his own way, to become as accomplished as George Mattson.
Because Uechi-Ryu is a martial art which can be performed at any age, Mario intends to continue to actively study Uechi-Ryu for the rest of his life.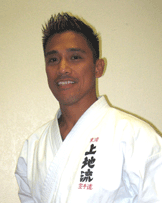 John Felipe: Born in Bagio City, Philippines in 1971, Moved to the USA, Antioch, CA in 1979, Graduated from Antioch High School in 1990,
Attended Los Medanos College in Pittsburg, CA for Computer Programming and Real Estate, Starting training in Uechi Ryu in 1984 under Alan Dollar in Antioch, CA thru the Kenyukai Association for 10 years – 1984-1994, Training in Uechi Ryu for over 28 years, Over 25, years of teaching experience.
Certified Shodan – Kenyukai Association – 1987, Certified Nidan- Kenyukai Association – 1989. Certified Sandan – Kenyukai Association, – 1991, Certified Yondan – Okinawa Karate-Do Association – 1994, Certified Godan – Okinawa Karate-Do Association – 1998, Certified Rokudan – 6th degree Black Belt thru International Uechi-Ryu Federation – 2007, Certified Renshi Title thru International Uechi-Ry Karate Federation – 2007, Certified Jun-Shihan Instructor thru the Okinawa Karate-Do Association, Certified thru the Okikukai Association, Certified Member of the International Uechi-Ryu Karate Federation, Certified Instructor for Fitness Kickboxing through the National Association of Professional Martial Artists, Certified AFAA Group Exercise Instructor, Certified Zumba Instructor, Certified RIPPED Instructor,
Established school in 1994 in Pittsburg, CA, Currently have over 200 students ranging from 3 years old and up in our traditional Uechi Ryu, Little Dragons, Little Ninjas, MMA, Fitness Kickboxing, Zumba and RIPPED programs. Successfully trained and promoted over 40 Black Belts ranging from Shodan to Sandan. Created age specific programs such as Little Dragons and Little Ninjas to incorporate young children into our system.
Created a Leadership Program – Black Belt Club – to mentor younger and lower rank students and to help prepare to become future Black Belt Instructors. Created a Demonstration and Competition Team through our additional programs, Black Belt Club and Millennium Training Program. Our Demonstration Teams performs at local fundraiser events, Health and Fitness Fairs, Health and Safety Fairs and local Festivals. Our Competition Team competes at local Outside Tournaments with a lot of them taking home 1st thru 3rd places as well as Grand Champions.
Obtained Three-time National Grand Champion in Uechi-Ryu Tournaments in Forms, Weapons and Sparring 1989/1992/1993. Obtained Outside Tournament Grand Champion in Forms and Weapons 1996/2000/2006/2009/2010 2010 – Overall Champion for Men's Forms thru AMAPA Tournament Circuit – Received Champion Belt. 2011- First Place in Doubles Team Forms Competition thru National Black Belt League.
Highly active in supporting local schools, charities, and fundraisers for various causes. Married to a beautiful loving wife of 18 years – Jackie.  Have beautiful twin daughters that are 10 years old – Jocelyn and Jazmine.  Started Jocelyn and Jazmine's training at the age of 2 ½ and they are now part of our demonstration team as well as competing in local outside tournaments.
Proud owners of a beautiful Golden Retriever and 3 adorable Shi-Tzu's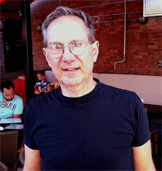 Paul Giella started karate at age fifteen in 1967 after a fellow student in high school, who was a member of the dojo, noticed him reading George Mattson's book and took him to watch a class. It was the week the Hancock Street dojo was opening, also Paul's birthday and his father had asked what he wanted as a gift. The gift was the dojo membership. Paul was the typical mild-mannered kid living in a tough neighborhood who wanted to develop his self-confidence.
While never one of the world class elite that emerged from that famous dojo, Paul had the great good luck to have been able to train during that remarkable period when there were several students who were or who would become well-known champions and famous teachers. Their presence raised the bar for everyone, and that dojo became a world headquarters for serious martial arts study and remained so for many years.
Being somewhat of a perfectionist, Paul became one of the technically focused students and teachers. A kata proponent from the beginning, he tended to focus on honing the fine points of the forms and related exercises and eventually became a teacher who was known mainly for his focus on the classic forms.
The dojo became a central focus of his life, as important then as college or anything else. Among his several activities there, Paul taught classes and private lessons and eventually started and ran the Saturday morning adult class which many years later evolved into the program that followed the closing of the Boston dojo in 1977. He assisted Sensei Mattson as the dojo relocated from Boston to South Boston to Newton and finally to its current location at The Hut. When Sensei Mattson moved to Florida in 2004, Paul was offered the honor, along with Vinny Christiano,  of  continuing that class, which is vibrant and active to this day. It has become a 'martial arts laboratory', where the group is constantly testing out new angles on the classical training.
Always a student of the basic forms, Paul has made the study of sanchin his major concentration. His philosophy has been to seek the universal, rather than the unique, and to find in sanchin the universal martial arts principals and techniques that appear in the other styles and arts. To this end he is constantly seeking to experiment and develop new exercises that bring these principals to the forefront. He is particularly proud of his work on the thousand step, three level sanchin, and he conducted an experiment in 2010 in which he did a one thousand step sanchin every day for a month. The results have been illuminating, and the Hut group recently helped Paul celebrate his sixtieth birthday by performing this exercise. He has also developed a couple of 'contact' versions of sanchin, done with a partner or a heavy bag, that bring out and develop other elements of the form. His longterm goal for himself and those he teaches is to evolve toward the 'natural', which involves both physical and psychological principles.
Besides the karate workouts, Paul does some jogging and some yoga for general fitness. He makes his living as a psychologist and lives in the Boston area with his family.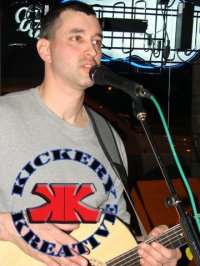 Jim Witherell is the owner of Berkshire Bath Works, a bathroom remodeling company. He is also a professional musician. A guitarist and lead vocalist for a duo QLC and a soloist. He is the drummer and lead vocalist for the band Static. He is the co-owner of the Berkshire Martial Arts Academy. Jim is also the father of a two year old son Brandon which is his greatest source of pride.
Jim started his martial arts career at age 6. He has studied Uechi Ryu for 34 years. When he graduated high school he and his dad opened the Berkshire Martial Arts Academy. At age 18 which was the minimum at that time Jim received his Shodan. He has been a teacher of Uechi Ryu for 22 years. He has been a competitor in both kata and sparring for 20 years winning several titles in both. His proudist competitive moment was winning the black belt title at George Mattson's Uechi Ryu World Championships in 2003.
In 2005 Jim was promoted to Rokyudan and Renshi by I.U.K.F. another admittedly proud moment.
Jim is known for his flexibility and sparring and has been affectiontely been referee to as Gunby by some of his students. He and his dad have turned out 34 Uechi-Ryu black belts. Jim has also spent over 20 years studying Ju–Jitsu and kickboxing. He received a black belt in Akia in 1995 from Jerry Beasley and Bill Wallace. Jim was also awarded a fourth degree black belt in Superfoot Kickboxing from Bill Superfoot Wallace in 2000.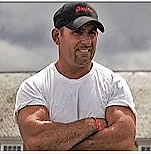 Fedele Cacia, affectionately referred to as Fud in the UK.  At first glance Fud can be seen as someone who really enjoys what he does in life.  However, get to know him even more and you will understand how strong his passion is for everything that he turns his mind to.  He will take everything to its limit in an extreme effort to be the best he can be.  He can be fearless when he feels that he must be.  For example, the first time he ever spoke to Jim Hulse, his Uechi-Ryu teacher from the UK, was to confront him about why he was not going out on strike at the local factory that they both worked at.  Jim Hulse, twice the size and holding a good reputation for a no nonsense approach to life did not deter him in the slightest.  Over he went and asked him out right.  He did understand Jim's reasons and did not go out on strike himself.  Just to let you know that people wanted to strike for the right to strike so that they could strike for something they wanted!  Confused yet?
This meeting was the catalyst for a long friendship both for karate and personal.  He started training in Uechi Ryu the very same week.  This was the start of seeing someone take on the training with such determination that ended up with Fud being the first Uechi Ryu Dan grade for Jim Hulse.  Fud set the tone for the students in the dojo and many fine Dan grades have been produced since but it is the history of Fud that is used as an example even to this day.
Finally, the day came that he wanted to pursue other things and he left the dojo.  He did not try other forms of karate because if you know him, he would find that insulting and disrespectful to his Sensei.  He decided to take up running, not just running but marathon running.  Not being a natural runner meant that he would need to put that determination to the test more than he had ever done before.  He finally made those marathons but at a cost.  During the time running he had lost too much weight, according to Jim.  So along came his next journey, weight lifting.  He threw himself in to weight lifting and like all his previous adventures he was determined to become the best lifter that he could be.  Fud grew and grew and grew!!
The next journey in his life was to change everything.  He made the journey across to America for a family wedding.  There he met Ivana, his wife now for over 20 years and the UK would lose a special person.  Not content with just moving to America he wanted to live that dream.  He took on the construction trade and built himself a fine business and a great family with Ivana.
During the time in the gym, weight lifting, he noticed something familiar through the windows in to the next room.  It was a Uechi Ryu class!  Watching them train his curiosity got the better of him and he entered the dojo.  A great move for him and for the Uechi Ryu organizations in and around the Boston area.  He eventually opened his own dojo and forged himself a great reputation as a student and teacher throughout the Boston area and beyond.
His latest passion would be his toys, cars and bikes both on and off the track. As in the past, he pushed the envelope on the track working his way up the ranks and making his way to the expert run group where he now qualified to compete in his first enduro race at Watkins Glen International Race Way alongside many more experienced drivers and instructors. Not only did he win this race, but he lapped six much more experienced drivers in the process.
At the Summer Camp Fedele will show exactly why he was awarded his Renshi 6th Dan at a Dan grading in June of this year from his first Sensei, Hanshi Jim Hulse's organization and Master Van Canna.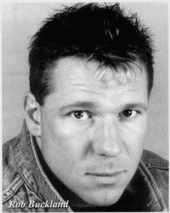 Robb Buckland, FEARS Ltds' founder,  is a veteran of over 35 years in the martial arts and the grandson of 'Hockey Hall of Famer' Frank Buckland. A nationally certified nutritional consultant and personal trainer (IFPA and ACSM), Buckland began his early martial arts training as a student of Masters Joe Shartrand and Frank Gorman in 1973. Master Buckland through his association with Uechi Ryu Karate, pioneer and American founder George E Mattson, is mentored by Legendary fighter / trainers Jim Maloney, Arthur Rabesa and Bob Bethany." Buckland is recognized as a Shihan (master instructor) in Uechi Ryu Karate and received a lifetime achievement award from the Uechi Ryu Hong Kong Karate Association in 2010. Through his mentorship by Hong Kong Uechi Ryu Karate Association founder Master Robert Campbell, Buckland studied under Tan Dao founder Master Lawrence Tan and is recognized as an 'elder' in Tri Harmony Gung Fu.
Robb began training with Kickboxing Legend / American Karate pioneer Joe Lewis in 1984. Grand Master Lewis, who was voted by his peers as  "The Greatest Fighter of all Time", awarded Buckland a 6th degree black belt (Renshi) in his Joe Lewis Fighting System. Buckland says, his understanding of the attributes of a warriors spirit: courage, honor, and 'heart'  are lessons he learned from his experience "Sparring with Mr. Lewis". Through Mr Lewis' mentorship, Buckland met and trains with Grand Master Dr. Maung Gyi  American Bando (Burmese Boxing) pioneer . While dominating on a national level in professional fights, Robb was recognized as a 6th degree black belt by The American Independent Karate Instructors Association (AIKIA), founded by Dr Jerry Beasley, Bill 'Superfoot' Wallace and Joe Lewis.
As MMAs' popularity grew with the UFC, Buckland turned to Judo Master instructor Harry Chandler at his Dalton Judo Club. Master Chandler's mentorship in the sport of Judo are some of Buckland's fondest memories 'on the mat'. This training led to several training sessions with Olympic medalists Jimmy Pedro and Jason Morris.
In early 1990 Robb began his association with Soke Michael DePasquale Jr. founder of the International Federation of Jujitsuans (IFOJJ) and the Screen Action Stunt Association (SASA).  Mr. Buckland is a recipient of the prestigious Samurai Lifetime Achievement Award and the Samurai-Bushi award for continued excellence by the (IFOJJ). Action Martial Arts Magazine awarded Master Buckland a Silver Lifetime Achievement Award after Soke DePasquales' nomination. Mentorship by Soke DePasquale and Grand Master Joe Hess allowed Buckland numerous film, television, and magazine appearances as well as advanced stunt and Ju Jitsu training.
Mr. Buckland is now a sought after seminar performer for the martial arts and action film industry. Buckland has appeared in numerous television documentaries including The Discovery channel's "Hollywood's Greatest Stunts", The Learning Channels' "Martial Arts The Real Story", and A &Es "Mystical Origins Of The Martial Arts". Buckland is also featured in the action films "Miami Vice", "Pirate Soul", "Red On The Blue",  and "Bloodmoon". "Requiem for a Pit Fighter" and "Quan Yin" include Robb in action sequences choreographed by Michael Depasquale Jr. , Joe Lewis, and directed by Art Camacho.
Mr. Buckland has served in the United States Army and in a security / executive protection capacity for such notable performers as Jo Dee Messina, Kevin Bacon, Joan Jett, Seigi Ozawa, Winton Marselles, Diamond Rio, Tony Hawk and others. Buckland acted as "Intercept team leader" for the Seminole Hard Rock Casino  Resort in Hollywood Florida. Buckland is currently in preproduction for a series of Combat Fitness videos.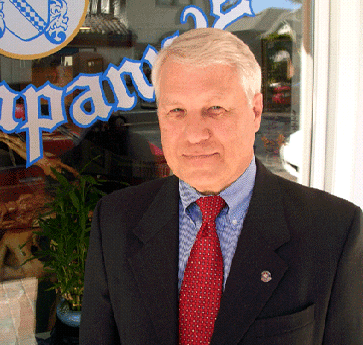 David Berndt, 6th dan: My experience in the martial arts began in 1965, with Isshinryu. Receiving a shodan in 1969, I started work/educational related travel, and never stayed with style. Practicing on my own and visiting various dojos all over, I came across a Uechi dojo in Brandon, FL, where I started training with Sensei Joe Guidry, in 1992. I received my shodan from Bob Yogis later. I am now a student of GEM.
Achievement in the art is that I have stayed in for nearly 50 years.
I teach two classes a week, intermediate and adult. By profession I am a Certified Gemologist (AGS), jewelry appraiser and expert witness. I have a 12 year old son, James. The art has affected my life as it has become a part of my life and everyday experiences. My ambition is to continue to be a student many more years. My closing thoughts are that people should stop trying to be teachers and concentrate on being better students themselves. The more you train, the more you realize how little you do know. You may know the forms and moves, but you must be able to transfer that knowledge in an understandable method to others.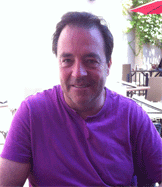 Gerry Gross, 6th Dan: I was inspired to study martial arts after seeing the movie, "Enter the Dragon". While attending college at Framingham State but studying at the Brandeis University Library, I noticed a sign in the student union building; "Karate Classes".  Richie Baptista was kind enough to allow a non Brandeis student into his class.
While in college I taught evening classes at the Franingham State College student union and assisted in the classes at Brandeis until 1983. In addition, I thoroughly enjoyed the many kind people and truly amazing insights learned at the old Hancock Street Dojo. There were also many strenuous wokouts and bike rides with my good friend David Moy over at The Quincy School in Boston's Chinatown.
Bachelor of Arts Framingham State College May 1977,  Juris Doctor New England School of Law May 1987, Admitted to Massachusetts Bar. Presently employed by the City of Waltham  ( fine arts teacher )
I was born on September 14, 1955 with a congenital heart defect and have undergone three open heart surgeries, the first one at age 7 in 1963 at Children's Hospital in Boston. The second time was in 1996 and the third in 2005, both at Brigham and Women's in Boston. I have a titanium aorta as well as a synthetic wrap and will be on coumadin for the remainder of a life so blessed