2012 FireDragon Challenge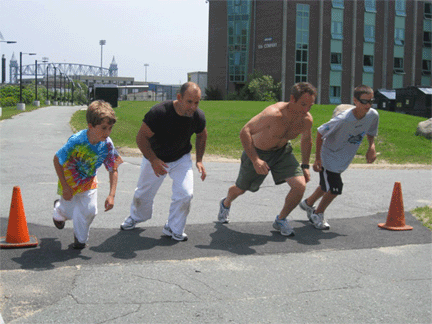 Mission Statement:
The FireDragon Challenge was conceived by George E. Mattson in 2001 as a way to motivate karate students and teachers to test their physical potential with a challenging set of exercises that measures their martial art potential. Mattson asked Dr. William Glasheen, a scientist and martial art teacher, to design the challenge, using simple-to-perform and understand exercises that could become a widely accepted tool for measuring general fitness goals using popular competitive and individual motivating incentive and measurements.


A unique spreadsheet computes data from all events and tabulates individual scores and places in addition to a unique team competition, involving 3 males and 3 females. Any number of teams and individuals are able to compete.
Sanctioned by IUKF and South China Martial Art Alliance
The FireDragon Challenge Team:
Hosted by City of Mount Dora Recreation Department
Senior Advisors George E. Mattson & Dr. William Glasheen
Team Coordinator: Tom Bentley Team members: Kelly Sanders David Berdt Tim Dando Jim Baggett
It is the hope of the FireDragon Fitness Challenge Team that other dojo will step up and host FireDragon challenges in their area. This is a great way to provide a public service while promoting the physical benefits of martial art training.
There is no charge for becoming a FireDragon Hosting Dojo or for any of the materials necessary for conducting the Challenge. Please contact George Mattson for details.
Here is a link to the 11 X 17 Poster
Here is a link to the Challenge Handout Brochure