Workouts with George E. Mattson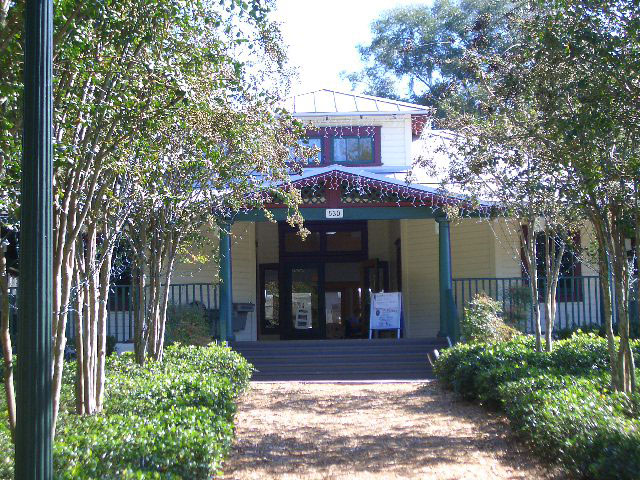 You are invited to workout with George Mattson any time you are in the Central Florida area. Regular classes are on Mondays & Wednesdays from 5:30pm – 7PM. (Children's classes are held 5-6PM)
However, George teaches private lessons and special seminars with some advance notice. The Central Florida Martial Arts Academy is located in the Mount Dora "Pagoda" in the middle of the park in downtown Mount Dora.(Donnelley & 5th Ave)  Be sure to call before coming: 321-273-0409.
---

So…. You want to study Uechi-ryu! But you don't live near a teacher – or you simply want to enhance your dojo training by taking private lessons with me and taking advantage of my 50+ years experience. . . . using the latest communication and internet technology. . .
About 8 years ago I made a video tape that is still running on our Video Website. On this tape I predicted that web technology would soon enable teaching the martial arts on-line within five years!
Well, although the technology was available even before the five years prediction, few of the individuals who requested my help, had the computer equipment needed to accomplish this.
By 2005, most people who wish to either supplement their dojo studies or lacking a local dojo, actually progress through the ranks, enabling them to qualify for testing by a certified test board.
What equipment do you need to participate in this program:
A video camera.
Video editing program and the skills to transfer a video clip from your camera to a video file on your computer.
Web access, enabling you to either send video clips to me or to upload the clips to Google Video.
Ability to access the Eastern Arts' On-Line Learning Center.

Must have computer, a video camera and the ability to follow simple instructions.
Willing to meet on-line once a month for conferencing and video critiquing of lessons
Willing to practice as required to progress and achieve goals of program.
How program works:
Sign-up for an "evaluation" session with me. (Cost is $19.95, payable through Paypal or G&S secure store)

This evaluation session includes a meeting with you on the " Learning Center "
Review of the features of the " Learning Center"

Telephone quality features of the site.
Ability to share documents and review the documents together.
Ability to view film clips together and review techniques, corrections and suggestions.
Capability to have students of same rank meet together for on-line classes.

Option to sign-up to the On-line Mattson Academy! $39.95 a month.
Receive DVD courses for all ranks up through Brown Belt (Ikkyu)
Receive Black Belt Test Guide 3 rd edition.
Receive monthly lessons on-line and in e-Book format.
Personal review session where goals are established and technical material is covered that is needed to achieve these goals.
Special discounts for G&S products and Eastern Arts' activities.
Sign-up today for your special "evaluation" session. Send me an e-mail and I will schedule our on-line meeting with you at a convenient time for us both.
Looking forward to hearing from you and working with you.