Hi Everyone,
Sorry I was not as aware as I would have like to be.  It's a sign of old age.  The event date is October 24 at the China Pearl in Quincy.  I believe it's Quincy Ave.  And the seating time is 4pm (come early to insure seating).  The ceremony starts at 5pm.  Thank for not being to upset at my poor memory.
Darin
Hello Everyo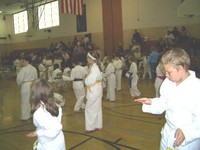 ne,
I would like to thank everyone who contributed to help make our Uechi-Ryu Karate Championship Series such a success.  This series was conceived in the attempt to bring all our Uechi family together in the spirit of good friendship and healthy competition.  
We gather to rejoice in the success of all our collective students demonstrating all the efforts of each and every sensei and all the hard work of our proud student.  This series is not about winning or losing but about competing and showing to others who we really are.
This is why we are presenting our recognition night.  On this night, the promoters of the Uechi-Ryu Karate Championship Series are going to recognize and present to each and every competitor a certificate of achievement.  This certificate was professionally designed and will be signed by our promoters.

This event will be held at the China Pearl in Quincy, MA.  We will feast on an eight course meal consisting of steak, chicken and sea food.  This will be accompanied by an array of vegetables cook to perfection.  We have also taken into consideration the appetites of children.
Recognition night passes are $30 per person.  All competitors who have entered all 3 tournaments of our series will receive a free pass.  All grand champions who have only entered 2 out of the 3 tournaments will still have to purchase a $30 event pass.  All guests accompanying our competitor should prepay so we can assign you seats with your champion.  If you pay at the door, we may not be able to easily accommodate you.
We will welcome all guests at 4pm.  Our ceremony will commence at 5pm and we should be done by 7pm.
This will be a night of fun, food, pride and good friends.  Please send your check for $30 per person along with their names of everyone in your party and the dojo which you or your child is studying.  Checks should be sent right away to reserve your seat as we are coming very close to our event date and we will need a head count.
Checks should be made out to UKCS, 8 Natalie Way, Plymouth, MA 02360.  That is the same name and address as the tournament series.  If you come without a prepaid pass, the cost at the door will be $45 per person as the restaurant has given us a special price for a specific number of people.  Any changes will alter their preparations and create costly changes.
Again, we thank you for your support and friendship.  
Darin Yee