2700 Mile Dog Rescue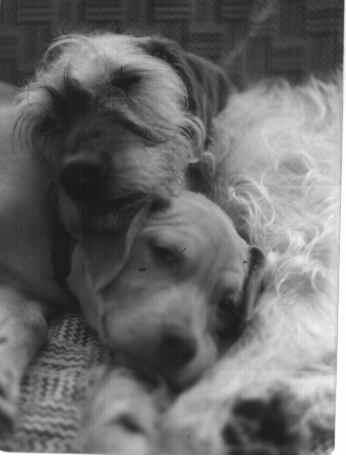 Losing Tia was a devastating and heartbreaking experience for Susan and me.  She was part of the family for nearly 15 years and as any dog owner will tell you, "putting down" a pet is traumatic.  Since being together, Susan and I have shared three amazing and lovable dogs.  Herman was the first; a pit bull — standard poodle mix, Bally; a purebred "old family red" pit-bull and of course Tia, another purebred pit bull.
All three dogs were outgoing, friendly and poster dogs for the pit-bull breed.  They were healthy, independent, strong willed and loyal friends to their owners.  It is a shame that the breed has become better known for its indomitable fighting spirit and competitive nature that can be easily be abused by their human owners than for the breed's positive features.  Faced with increasing public condemnation and potential legal problems associated with the breed, Susan and I decided that our next dog would not be a "bully".
Susan had been doing a lot of research on different dogs and decided for a number of reasons that a Wheaten Terrier would be our next dog.  We both agreed that we would try to find one in a rescue facility. After many weeks of searching, Susan finally found a candidate she fell in love with after seeing his picture and reading the description penned by the person who found him wandering around and living off his 2500 acre farm near Manhattan, Kansas.



Brian did his best to clean up the thoroughly filthy dog and discovered a very attractive and energetic Wheaten Terrier beneath layers of dirt, burrs and long, thick fur. (Estimated to be about one year old) Brian already had five dogs and a number of cats that the new arrival reveled in chasing. The new dog got along with all of Brian's pets. However, there was one black cat that wouldn't back down to the dog and aggressively defended its turf whenever the dog approached.
Although Brian wanted to keep the stray and even named it "Kid" during his short stay with him, he realized that the only way to keep peace in his family was to either get rid of the black cat or "Kid." Since Kid was the new kid on the farm, he was sent to live with a friend of Brian's while they searched for his owner and later attempted to find a forever home for him.
Kid was taken to a local vet who volunteers his time for the rescue group, he neutered him and gave him all the vaccinations and tests to ensure that he was in good health. Meanwhile the group posted Kid's picture on the "PetFinder" website where Susan saw it. The rest is history!
We thought the adoption process would be a simple matter. After all, we are talking about a dog who was a wandering nomad a few days earlier. . . but the procedure to adopt a dog was thorough and designed to make sure the pet and family were a good match. . . We discovered the group actually called our old veterinarian in Mass as well as our current one in Mount Dora. They read all the articles I've written about our pets over the years and even watched the movie Sue and I made called "Tia goes shopping" which had a lengthy run on U-tube.
We finally got approval from the group and faced another serious problem: How do we get our new dog shipped from Kansas to Florida? The nearest airport was over 2 hours away from where the dog was and there were no direct flights to Orlando. The Rescue organization also has volunteer drivers who will actually transport dogs to their new homes but the longest trip was usually only a couple of hours drive. After a week of back and forth suggestions that wouldn't work, Sue and I said: "What the heck. . . let's just drive to Kansas and pick up our dog!"
So last Monday we packed clothes and everything we believed "Kid" might need for the trip and headed north for Kansas. . . 1384 miles away!
We made it in three days. A little snow in the mountains of Tennessee and really cold weather in Georgia and Missouri, but generally a pleasant albeit tiring drive.
Brian and Lacey (the lady who coordinated the adoption from the rescue group) met us at our hotel Wednesday evening around 9pm with our new dog. Wow. . . what a scraggly and boisterous animal! He ran into the room and proceeded to check every nook and corner of the room, including the bathroom. He discovered the mirror by standing up on the dresser and proceeded to stare intently at his image. I don't think he ever saw himself before and he absolutely found his image to be handsome. He turned his head from side to side while straightening his back in one of the most interesting dog poses I've ever seen. Fortunately my camera was documenting the meeting and I got a picture.
While Kid continued looking at himself, first in one mirror and then over to another, Sue and I talked with Brian and Lacey about the Rescue Group and its work which I didn't know existed until Sue found them on the internet. Turns out they are a national organization consisting entirely of volunteer workers. They rescue adoptable animals from shelters before being euthanized. Turns out there are quite a few stupid people in the world who decide to get a pet, then after a few weeks, months or years decide they don't want the pet and either abandon it somewhere like a highway rest stop, mall or near a farm like Brian's. They eventually turn up at a shelter that keeps them for a few days then "put down" any that can't be adopted. The rescue group is a second chance for most of these animals. . . they have the best chance of finding new homes through their network.
Lacey explained how the group worked and how they attempted to find homes for their rescued pets. Finding a good match where the pet would be ensured of a permanent home was their primary function. So far their track record is excellent. After the series of interviews Sue and I went through, Lacey felt "Kid" was a perfect match!
Brian named "Kid" and had spent the most time with him. He told us how friendly Kid was, how he loved to play with his other dogs and cats on the farm and the feud Kid had with the infamous black cat. We shared our many dog stories accumulated over the years and pulled up many pictures I had posted on the internet. We said our goodbyes and Kid officially became ours.
Neither Sue nor I cared for the name "Kid" and got Brian's approval to change it if we wished. Since Kid didn't respond to any name or command, we didn't think he would object.
The next morning Sue and I decided to get an early start home. We were going to stay in Manhattan another day, but the weather reports weren't looking good for the weekend and if we didn't make it through Tennessee and Georgia by Friday we might end up being stranded in a storm. Since we didn't want to leave Kid alone, I ate breakfast at the hotel and Sue would eat somewhere once we got on the road. We drove for about an hour when Sue decided to take a busy exit and have breakfast while I played with Kid. The dog watched Susan get out of the car and walk to a diner about a hundred yards from where we parked. Since Kid had refused to either eat or drink water since we took possession of him, I decided to put out some food and water to see if he was interested.
I opened the rear door and while placing the two containers on the ground. I felt something furry brush my head. Looking up I saw our dog landing on the ground a couple feet from the car. With karate reflexes even Bruce Lee would have been proud of; I grabbed Kid's tail and hung on for dear life. I was able to transfer my left hand from my two handed grip to a death grip on his collar. Whew. . . what a close call.
Before I could restrain Kid, he shook his head in a practiced and very effective escape move and before I knew it I was holding an empty collar. Kid was bounding like a deer being stalked by hunters, away from me and towards the highway!
I won't bother to describe my thoughts during the few seconds that elapsed from the time I grabbed Kid's collar and when I saw him next, nearly fifty feet away!
After screaming Kid's name and trying to figure out what command he might respond to, I took off as fast as I could after the diminishing image of Susan's dream dog! Other shoppers in the area tried to head him off as I attempted to predict where he was headed.
Whereas my initial thoughts were the safety of Kid, as I ran towards the area he was last spotted my concerns focused on my safety once Susan discovered Kid's disappearance.
After nearly twenty minutes I cornered Kid in an office entrance. Creeping up on him as he blissfully watered a plant I dove in a nearly perfect head-first slide into home plate form, grabbing both his rear legs in a death grip. Tail wagging; Kit began kissing me as I desperately tried to catch my breath. Since I forgot to bring his leash and collar (along with forgetting to close the car door with Susan's purse inside) Kid enjoyed a quarter mile walk in my arms!
A few minutes after I got to the car Susan returned and asked how Kid was doing!
The rest of the trip was uneventful. (Thank goodness) We decided to spend the night when we had 850 miles left to go. The next day (Friday) we drove straight through, arriving in Mount Dora around 1:00AM.
Oh yes, near Chicago Susan asked me how I liked the name "Harley." "Somehow he just seems to be a 'Harley'" she proclaimed and I agreed.
We speculated why he took off on me while Sue was enjoying her breakfast. True, he could have been looking for her but if so, why did he head off in the opposite direction?
We finally figured out his reasoning: As a rescued dog, living off the land on a 2500 acre farm, he was displaced at least one time. We weren't sure if living off the land was a better choice than what he had before, but Brian took him in and gave him shelter and the option to run outdoors and play with other dogs. Then he ended up in a tiny hotel room with two humans. That had to be a "downer". Then these two humans put him in a tiny car where he couldn't move around, play or pee when he wanted.
We assumed Kid/Harley came to the conclusion he was going from bad to worse with the prospect of living in a car for the rest of his life. No wonder he decided to escape!
We are home now and Harley has hit the doggie lottery. I don't think he will want to run away again. He is already somewhat of a celebrity in our neighborhood. After all, he must be pretty special to get two humans to drive more than 2600 miles to get him. Come to think about it. . . we must be crazy!!!!
[Click here to view photo gallery of trip]