Update on the N.E. Junior Tournament Series:
Dear Fellow Uechi-ryu Practitioners,
In support of our friend, Darin Yee, I would like to encourage you to try your best to attend future get together for training and tournament series talk. His tournament is scheduled for Saturday, June 7 at the "Jungleplex" in Plymouth.He does a great job in conveying his perspective on tournament play at his meetings. The Uechi-ryu Karate Championship Series was designed to assist young practitioners to understand the competitive aspects of martial arts.
I know that many of you are thinking, What's the value of competition? My school teaches our students how to protect themselves. My school teaches them how to be  upstanding citizens, etc. That's great. Beyond that, is something deep inside all martial arts practitioners, that can only be understood by a competitor. That something, in part, is real self understanding. What are you really about? How do you stand up in the face of adversity? Does what I do really work?
Those questions get answered very quickly with someone your age and rank (skill level) during competition. With the correct guidance from a caring Sensei the student becomes more self confident and also a caring citizen. The thing is, you know what, never underestimate the value of losing. Losing will bring out the best in most kids. Because a loss will bring out something in that kid that will help him succeed his whole life.
Try to support our Series. Sensei Bethoney, Sensei Yee, Sensei Testa and myself are not perfect. But I firmly believe, we're here not just for the kids and their parents, we're here for you too–our fellow Uechi-ryu Sensei and practitioners. Send me an email anytime, I guarantee a response.
Manny Neves
---
Welcome to the the newest IUKF Board Member.


Roy Bedard has been appointed and he has accepted the position as a board member of IUKF.
Roy is a 6th degree black belt and holds the Renshi title.
Besides all his other Uechi related projects, Roy is working with me as the editor for my 50th anniversary "memories" book, scheduled to be published this August. GEM
---
Upcoming Events You Don't Want to Miss!
Sunday, May 18, 2008 – Mount Dora Workout
A group of Bostonians are coming to visit and ask me to set up a workout for them. What a great excuse for a group get-together!
I'm planning to make a day of it.
10AM – Noon (Morning session
Noon – 1PM (Lunch at the dojo)
1PM – 2PM (aftenoon session)
If you would like to workout with us, please email me at
gmattson@uechi-ryu.com!
---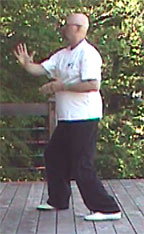 2nd Look at David Mott's New DVD
Hi Sensei Mott,
I have had a chance over the past couple days to try your excercises.  I think that they are a great compliment to our training as Uechi Ryu students.
Folowing the instructions of the DVD you have created is like taking a guided tour of the body.  It encourages awareness and intention , a place that we are often to preocupied to be in.
I found your exercises encouraged a more intimate sense of what your muscles should be doing in a movement.  For example, you very quickly connect with relaxing the muscles which don't need to be in a state of action.  Tensing every muscle in our body is such a common temptation in our training.
At best most of us develop a sense of connecting with mother earth and drawing energy up through the hips and out the arm.  Your exercises encourage more movement not only in the physical body but also in the energy you are generating and how it moves. As opposed to moving energy from earth straight up the body and out the arm it takes on a more circular action which provides an opportunity for much a much more efficient and powerful technique.
These exercises provide an opportunity for Uechi Ryu students to connect with elements of body mechanics and energy flow at an earlier stage of their training .  I think this is important because many students stop training before they ever come close to experiencing  any of this.  I feel your DVD will inspire students as it did me to look at themselves and their Uechi training with more depth.
Again I thank you Sensei Mott for sharing through the DVD you have created.  I will recommend this DVD to all Uechi students I come in contact with here in Nova Scotia.
Wishing You and your family all the best
Derick Bagogloo
Note:
Click here
for the full review and preview of David's DVD.

---