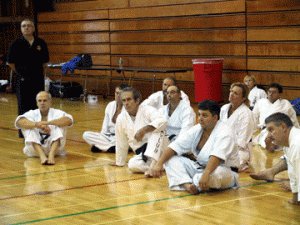 I am happy to inform everyone the first tournament of our "Uechi Karate Championship Series" turned out very well. As usual, most of the active Uechi community in the Northeast took part in these get together. There were more then 120 competitors this tournament and we are looking to improve with each passing tournament.
My tournament called "The Rumble in the Jungle" is next. This will be held at the Jungleplex located on 8 Natalie Way, in the historic town of Plymouth, June 7th. Unlike most other tournament locations, the Jungleplex has an operating café where we can purchase break face, lunch and snacks. There are soda machines at many locations. A designated eating area You can change into your gi right at my dojo, which is located across from the competition area. I will give lunch vouchers to all working officials as a token of my appreciation.
I will take all precautions to insure the best possible tournament I can with the little experience I have at running these things. I will insure an award to all entries. After all, this tournament is for all children brave enough to "gi up" and face an unfamiliar opponent. Not just for the exceptionally gifted, the unusually big and strong or the ones whom sensei goes from ring to ring trying to intimidate the judges.
Although there will be fierce competitions, the concentration for this tournament is for people young and old to gather and in a tent of friendship, interact as one. Those who choose to be here as friends are welcome. Those who feel they are better then everyone else, I'm telling you to stop kidding yourself. Prove it! JUNE 7th 2008.
For more information, please go to our web site, www.uechikaratechampionshipseries.info. If you have any question for any of us, there are telephones numbers listed in the web sit. Please call.
Darin Yee