Webinar for Summerfest and Winterfest fans!
This year's Summerfest was smaller than usual and caused a number of participants to contact Susan and me with suggestions for making future events more popular. I think a lot of people were concerned that we might stop hosting the events because of lack of interest.
I'm sure the economy has played a big part in people expressing interest in attending but not showing up. Others speculate that the interest in mixed martial arts has taken away excitement formally reserved for karate events. Whatever the reason, be assured that our SummerFest and WinterFest will continue!
During the next couple of months I will be hosting a series of online webinar focusing on different subjects and I would like our first Webinar to tackle the subject – "How can we make SummerFest more appealing to Martial Artist?"

Sunday, September 19, 9PM – 10pm PM
Our first session will take place Sunday, September 19th from 9PM – 10PM (EST)
The Eastern Arts Webinar will hold up to 50 participants. You must have an I.D. number to attend. When you email me I will send you this I.D. number, the Webinar address and the telephone number to call in order to hear what is being discussed.
Hoping to hear from you today!
---
Sensei Robert Campbell's visit to America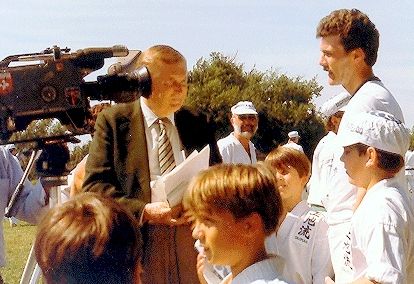 Robert Will be arriving in Boston mid-September and will be hosting a couple of training session as well as a an annual banquet which is held in his honor. Please contact Jay Salhanick for information.
Bob will be visiting Mount Dora Florida for three days before returning to Hong Kong. During his stay, Bob will be doing a lot of sightseeing and a little golf during his visit. On Friday, October 1, (6-8PM) Bob will be the guest of my Mount Dora dojo for a community open house celebration and demonstration of Uechi Ryu by the mount Dora students. Bob also plans to demonstrate some of his unique martial arts skills to the participants. A workout, led by me will follow the demonstration. There is no charge for this open house/workout and all are invited to attend. Please contact me if you can attend.
P.S. I was looking for a photo of Bob to use in this article and came across a couple in the "archves". The picture I used was taken in 1984 on Thompson's Island at our 2nd SummerFest. TV channels 4,5 and 7 showed up to cover this historic gathering of Uechi-ryu practitioners. In the picture, Bob was being interviewed by Channel 5.