2700 Mile Dog Rescue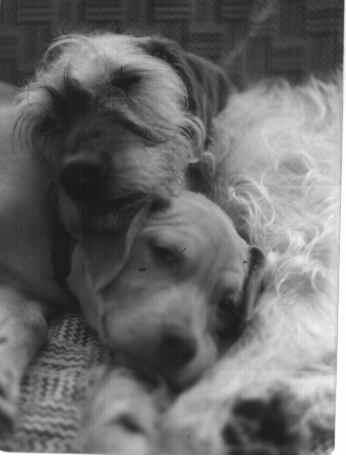 Losing Tia was a devastating and heartbreaking experience for Susan and me.  She was part of the family for nearly 15 years and as any dog owner will tell you, "putting down" a pet is traumatic.  Since being together, Susan and I have shared three amazing and lovable dogs.  Herman was the first; a pit bull — standard poodle mix, Bally; a purebred "old family red" pit-bull and of course Tia, another purebred pit bull.
All three dogs were outgoing, friendly and poster dogs for the pit-bull breed.  They were healthy, independent, strong willed and loyal friends to their owners.  It is a shame that the breed has become better known for its indomitable fighting spirit and competitive nature that can be easily be abused by their human owners than for the breed's positive features.  Faced with increasing public condemnation and potential legal problems associated with the breed, Susan and I decided that our next dog would not be a "bully".
Susan had been doing a lot of research on different dogs and decided for a number of reasons that a Wheaten Terrier would be our next dog.  We both agreed that we would try to find one in a rescue facility. After many weeks of searching, Susan finally found a candidate she fell in love with after seeing his picture and reading the description penned by the person who found him wandering around and living off his 2500 acre farm near Manhattan, Kansas.