Some of our New and honored Regular guest instructors scheduled for SummerFest 2015
Notice: A brief description of this year's presenters will be listed next to their photographs.
| | |
| --- | --- |
| George E. Mattson | George Mattson is the creator and host for SummerFest and will be very active throughout the weekend. In addition, he will be teaching many seminars and will, along with other seniors, be available for private lessons on Sunday. |
---
| | |
| --- | --- |
| Van Canna | Sensei Van Canna will be in attendance on Friday and Saturday and will be conducting small discussion groups on the subject of Reality Training and personal self protection recommendations, such as "umbrella" insurance coverage and other often ignored important subjects relating to common sense protection. |
---
| | |
| --- | --- |
| Art Rabesa and Windsong Blake | Sensei Art Rabesa (left in picture) is another "living legend" within the Uechi-ryu community. He is a talented and respected teacher and practitioner who is best known for his hard-hitting fighting style and teaching methods. His seminars are very popular and mirrors his views on "telephone-booth" fighting techniques and strategies."Windsong" Blake is always a favorite at camp and specializes in traditional Okinawan weapon training. |
---
| | |
| --- | --- |
| Jim Maloney | Jim is a Canadian national treasure who is probably as well known and respected in the United States as in Canada. He has been to every SummerFest since I created it and faithfully conducts some of the most popular seminars. We are looking forward to his being with us once again in August and teaching on Friday and Saturday. |
| | |
| --- | --- |
| Henry Thom | Sensei Thom, Chiarman of IUKF and senior Uechi-ryu instructor is a gifted martial artist and superb seminar presenter at SummerFest. He is the author of a very popular self-defense DVD (previews can be seen on youtube) and is well known on the seminar circuit. |
| | |
| --- | --- |
| Fedele Cacia | Sensei Fedele will be teaching at SummerFest for the first time this year. He is scheduled for Friday and Saturday. |
---
| | |
| --- | --- |
| | Started in Uechi-ryu in 1973 in Providence, RI. Became student of George Mattson in 1994. Began teaching at SummerFest in 1995.In addition to being a 6th Degree in Uechi-ryu, I have Black Belts in Kempo and Filipino Martial Arts. I am also an Instructor of Jeet Kune Do and Filipino Martial Arts, certified by Guro Dan Inosanto and Sifu Kevin Seaman.I am a full time martial arts instructor and owner of Derderian Academy of Martial Arts in RI. |
| | |
| --- | --- |
| Harry Skeffington | Harry Skeffington started training Uechi-Ryu Karate in 1972.  Harry is the IUKF International Test Administrator and has been presenting seminars at Winterfest and Summerfest since 2010.  He currently trains at the Hut in Newton and is an instructor at the Nam Pai Academy in Chinatown.  Harry will be conducting seminars covering the following topics: Developing power through Sanchin.  Sanchin testing: how we test and why. Kote kitai: from pounding to self defence. |
---
| | |
| --- | --- |
| Buzz Durkin | Sensei Durkin has been training since 1966 and is well known for his martial art ability and his world famous dojo in New Hampshire, where he has implemented impressive training programs that have turned out excellent teachers and students.Sensei Durkin will be teaching classes on Friday and Saturday at SummerFest this year, focusing on material that should be of great interest to teachers and future teachers of the martial arts. |
---
| | |
| --- | --- |
| Bill Glasheen | Sensei Glasheen, besides being a very active Uechi-ryu teacher and practitioner, moderates a very popular forum on the Eastern Arts website. Bill is also well known for his Superempi seminars and almost singlehandedly, has popularized this Chinese form that is rapidly becoming known as the fourth Uechi-ryu kata. Bill will be teaching all three days of SummerFest. |
---
| | |
| --- | --- |
| Roy Bedard | Roy Bedard is a recognized subject matter expert in police use of force and defensive tactics. He has provided expert witness consultations regarding self-defense in civil and criminal cases in Federal and State courts throughout the country.A classical martial arts instructor and law enforcement professional for 25 years, Roy works with civilians and professionals who wish to learn more about and improve their abilities to defend themselves. He has instructed in college classrooms, conferences, seminars, training camps, police academies and military bases in the US and abroad.Roy will be teaching Friday and Saturday in addition to his seminar on Thursday. |
---
| | |
| --- | --- |
| Darin Yee | Sensei Darin Yee is very active in IUKF as Public Relations Director and is a very innovative and imaginative Uechi-ryu teacher. Darin also is a guiding force in SummerFest and has been very helpful organizing the 2011 event. He will be teaching seminars all three days in addition to running the JuniorFest on Saturday. |
---
| | |
| --- | --- |
| Rory Miller | Sensei Rory Miller is someone no one is able to define. He is like the multilevel onion, with layers of wonderous insights, observations and above all, scary and mindboggling stories that he loves to tell. Spend an evening (or a class) with Rory and you will want to be his friend forever! Don't miss attending at least one seminar during the weekend with him!Rory's seminars will include: Leverage and Leverage points, Violence Dynamics and Efficient Movement. . . all very important to Uechi-ryu practitioners. |
---

Joe Pomfret
Saturday Presenter:
Learn the basics of GroundFighting, including the "Shoot", "Hooks" and other very workable techniques. Learn how to get your opponent to the ground, how to keep him there and how to apply submission holds. Demonstratred and taught in an easily understood manner
---
| | |
| --- | --- |
| Al Wharton | Sensei Al Wharton is a very popular SummerFest presenter and will be with us for the full weekend, teaching daily. |
---
| | |
| --- | --- |
| John Spencer | Sensei Spencer has attended every SummerFest since it began in 1983. He will be teaching all three days. |
---
| | |
| --- | --- |
| Bruce Witherell | I would like to teach the Ju-kumite again this year. Ju-Kumite is a stand up to ground ju-jitsu kumite. It is different in that it is basically what happens before the MMA ground fighting that Joe Pomfret teaches. I would one day like to submit it as my thesis for my hanshi when the time is right. It is the kumite I use for my brown belts in their tests. |
---
| | |
| --- | --- |
| John Hassell | Sensei Hassell has taught and contributed to the promotion of Yamanni-ryu bojutsu and Okinawan kobudo in the US, Europe and the Middle East. At this year's SummerFest, John will teach sessions in bojutsu and saijutsu technique and kata |
---
| | |
| --- | --- |
| Peter Blackman | Sensei Peter Blackman is a fine Uechi-ryu practitioner and teacher. He has been teaching very popular seminars for a number of years and will be very active at this year's SummerFest.I will be available Friday:11 00 to 3:00Saturday:9 00 to 2:00Sunday 10:00 |
---
| | |
| --- | --- |
| Robb Buckland | Sensei Robb Buckland, although fairly new as a presenter, has been a faithful camp attendee for many years. In the last few years, Rob has conducted an action packed seminar that is sure to please and to give participants lots of valuable information to take home. Rob will be teaching all three days of SummerFest. |
---

Victor L. Swinimer
Victor started training in Uechi-ryu in the fall of 1979
He received his Shodan, November 1984
He received his Sichidan, May 2006
He first learned Supraempei Kata from Sensei Glasheen at the 2000 SummerFest
He competed with this Kata for the first time in 2006In 2007 Victor made the Nova Scotia Karate Team and competed in Kumite and Kata at the Canadian National Karate Championship, Richmond BC. in the Master's Division. That same year he was named Senior male athlete of the year by the NSKA.2011 Victor was honored with the NSKA official of the year.Victor states: "It would be a honor to teach Superempei. I have performed it in several tournaments as well as the Nationals a few years ago. As far as I know I am the only one here in the Province that does this kata".
---
| | |
| --- | --- |
| Tracy Capone (Raven Littleriver) | I will be teaching beginner Okinawan bojutsu technique and kata, focusing on stance and balance transitioning. I will also be available for private lessons, aside from the formally scheduled seminars, for anyone interested in learning the actual form in greater detail. |
---
| | |
| --- | --- |
| Tracy Rose | Five components of a powerful punch! Watch him here as he works with a student at a past SummerFest. |
---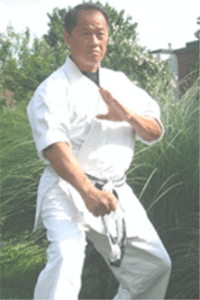 John Hwee
Mr. Hwee began his Martial arts training at the age of twelve earning his belts in Kung-Fu and Tae Kwon Do. He trained extensively and became proficient in particular, in the styles of Shaolin Kempo (Five Animals), Wing Chun, Chin Na, Chi Kung. While an undergraduate at Boston College in 1980, he founded and was the chief instructor of the Boston College Kung Fu Club until 1987. Since 1982 he has been an instructor with the Boston College Shotokan Club. In 1996, Mr. Hwee began his formal training in Shotokan under the direct instruction of Grandmaster Kazumi Tabata. He has been actively involved as an instructor with the NAKF and NECKC and is the Chief instructor at the Boston University Karate Club. Currently, He conducts extensive Self Defense seminars with emphasis on utilizing pressure points, trapping, distancing and energy. Mr. Hwee trains under Grandmaster Dr. John M. So O.M.D. to refine his skills in Chi Kung, Kung Fu, and Tai Chi Chuan while continuing his Shotokan training under Grandmaster Kazumi Tabata.
John's 2016 seminar will be:
Title: Training vs. Reality
Description: What happens when your most relied upon technique(s) don't deliver the results that you have trained years upon perfecting.  This seminar will focus on the realities of  street fighting, mind set during a "real" fight, and explore alternative training methods to better prepare the martial artist for non dojo confrontations.
| | |
| --- | --- |
| Patrick Dumont, L.Ac. | Patrick has been a regular at SummerFest for quite a few years, providing Acupuncture treatment for all who wish to try it out. Besides working full time helping students and teachers (and organizers) with various aches and pains all day Friday and Saturday, he can be found outdoors early in the morning for anyone who would like to join him for TaiChi practice. |
---
| | |
| --- | --- |
| Greg Postal | Kyu Kumite is something we learn as white belts, use to test for green and brown belts and then largely forget as black belts in favor of other, more "realistic" training. In fact, these (supposedly) simple exercises, practiced correctly can contribute more to self-defense readiness than many hours of sport oriented sparring. Learn ways to teach these often maligned drills in your dojo to minimize rote repetition and hone your students' abilities to utilize Uechi techniques and principles in real world environments. |
---
---
| | |
| --- | --- |
| Saturday JuniorFest | Dynamic Junior SummerFest: (Saturday – 9AM – 4PM)Junior program administrator, Darin Yee is in charge of the children's program. He has the amazing talent for keeping his charges busy all day long, alternating physical outdoor classes with indoor role playing, games and innovative programs. Darin will be assisted by his team of instructors |
---
| | |
| --- | --- |
| Fred Lohse | Fred Lohse has been practicing Goju Ryu Karate and Matayoshi Kobudo for over 25 years, both here and in Okinawa, and is ranked 6th dan in both arts. He started studying Feeding Crane gong'fu under Liu Chang'I Sifu, the lineage head of the art, in 1997 and has hosted Liu sifu in Massachusetts and trained with him in Taiwan. Fred teaches Goju, Matayoshi Kobudo, and Feeding Crane at his dojo in Waltham, MA. |
---
| | |
| --- | --- |
| Mario Rizzo, Esq. | Personal defense is a prime reason that people study the martial arts.  Preparing to defend yourself requires more than the study of techniques and the physical training of one's body.  It requires studying and understanding the principles of combat and preparing mentally to implement them.  Among these principles are decisive action, aggressive action, and speed.  The Uechi-ryu practitioner can achieve this goal within his usual course of study by incorporating changes in emphasis in the performance of kata, kumite, and exercises.  My session will explore these changes, primarily through the use of kata. |
---
| | |
| --- | --- |
| John Thurston | John ThurstonWe are very pleased to learn that John has agreed to teach at this year's SummerFest. He will be working with new students who want an indept understanding of our primary kata, Sanchin."The fighting Heart of Sanchin" . It would be for beginners. He will include "Rooting skills for Uechi Practitioners". |
| | |
| --- | --- |
| | David Kelley has been a practitioner of Uechi-Ryu Karate since 1974.  He is a senior student of Sensei Buzz Durkin and holds the rank of 8th Dan.  His presentation will focus on various practical applications of circular movements found in the Uechi-Ryu kata; specifically as they relate to locks, holds, joint manipulation, and the movement and control of an individual.  |
Mention self-defense & the average martial artist reviews all the techniques he or she has practiced many times. Followed by the statement: This won't happen to me."
In this seminar, we will explore the statistics, starting with "Most crimes are committed by someone you know, not a stranger in a dark alley".
The most important skill you can cultivate is "awareness". Learn to trust your 6th sense. Learn the difference between assertive & aggressive. Most people do not recognize a comment or "come-on" as the test of your receptiveness.
We will act out some scenarios with a partner. Practicing a realistic response to a actual or perceived threat is much like practicing your karate moves.
We will conclude with the discussion of physical techniques.
I am very pleased to notify everyone that sensei David Hunt will be with us this year at a Presenter. His topic will be:

" Accelerating your Techniques using Rotation and Stance"

Not too late for on-line registration. .George Mattson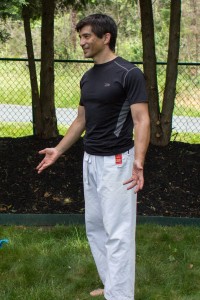 Bruce Hirabayashi, Nanadan, started Uechi-ryu Karate-do in 1979 at the University of Virginia in Charlottesville; he is Bill Glasheen's senior student.  Over his 37 years of continuous training and teaching, he has opened and run dojos in Newport News, VA, Regensburg, Germany and Atlanta, Georgia.  He continues to direct seminars and run black belts tests in the USA and Europe.  Currently Bruce lives and works in the Washington DC-Metro area, where he actively teaches, trains and conducts seminars 4-5 times per week at several of the DC-Metro area Uechi-ryu dojos.