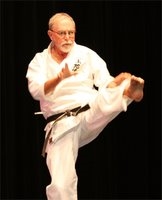 When I first ran SummerFests back in 1983 and '84, we had more than 500 people show up during the five-day event on Thompson Island. The camp was a new experience for the Uechi community and no one quite knew what to expect.
Everyone was amazed by the great experience of spending a week with the living treasures of Okinawa and China. Imagine, having Grandmaster Kanei Uechi taking you through kata and providing corrections and fine tuning of your form. Imagine meeting many of the most famous Okinawan teachers, who before that week, students had only read about. And now you were actually working out with them! Imagine meeting all the senior North American instructors and being able to practice with them and learn many new and varied applications and techniques contained in our system.,
SummerFest was born and it was a huge success. With the passing of time and fracturing of Soke into more than 30 organizations, SummerFest survived and flourished, albeit with fewer numbers.
Interestingly, for Susan and I, the smaller camps were much less stressful and lots more enjoyable. What began and prospered for more than 20 years as a business has evolved into an annual martial art family reunion. . . one that more or less runs itself with a timetable and schedule that sort of evolves, based on the number of teachers who show up at the Bell at any given hour. The biggest problem students have is trying to decide which seminar to take when all five or six sessions are ones that they want to be part of.
New participants call and ask "How come your schedule isn't up-to-date?" Well. . . because I don't always know who will show up and what time/day each teacher will be able to conduct a seminar. I make sure that key teachers will be there all three days and I've publicized them on the home page and in the forums. The "big" guns like Roy Bedard, Rob Buckland, Fedele Cacia, Van Canna, Vinny Christiano, Raffi Derderian, Gary Geddes, Bill Glasheen, John Hassell, Jim Maloney & Bridget, Rory Miller, Art Rabesa, Harry Skeffington, Darin Yee and. . . well, you get the idea. . . many of these teachers have been attending camp for more than 20 years… and they know that I expect them and the last thing they would ever do is disappoint me by not showing up.
I apologize for not putting out a fancy flyer or poster or for that matter, a continually updated schedule like I used to, but Susan and I have pretty much decided that all of you know about the event and if you feel like expanding your martial art horizons, you know where the application is located.  You all know that if you really want to come and you are having some financial difficulties because of the economy, all you have to do is let us know and Susan will find a way to provide you with a scholarship so you will not miss this year's exciting and fun- filled SummerFest.
This year at the Master's celebration, held on Saturday evening, we will be honoring a number of senior Uechi Ryu practitioners who will be elevated in rank and title based on their Uechi skills, ability and service to the Uechi community. In addition to a number of sixth degree black belts, we will be honoring the many years of service that Robert Campbell has devoted to Uechi Ryu by promoting him to ninth degree black belt.
This year Rose Dyer will be heading up the Saturday JuniorFest activities. She and her staff will be keeping the youngsters busy with both indoor and outdoor martial art activities. Rose has been teaching children for many years and she is famous for her creative and innovative children's classes. If you work with children, you might want to monitor her classes and learn some of her teaching methods and motivational secrets.
Bill Glasheen will once again be teaching his famous Superempi kata to all who would like to investigate and evaluate whether this might be Kanbun Uechi's fourth kata. Bill will also be teaching other seminars and will oversee the Saturday afternoon "Fire Dragon" challenge.
I'll be busy all three days, beginning at 6:30 AM working with Vinny Christiano and early risers who wish to experience "sanchin on the beach." I will also be conducting a number of classes on "core" Uechi and will help students and teachers understand that although Uechi is a fighting system and relies on a strong body, we must treat our body with great respect and with utmost understanding and appreciation of preserving our good health — not just for the few years you are in your prime, but for the long-term — meaning that you should be in good health and physically fit into your 80s and 90s.
We hear too often of the destroyed joints requiring replacement parts made of titanium, caused by improper training as a youth. With just a couple of preventative measures taken during your practice, those joints will be working for you long after most of your colleagues have hung up their Gi's and their only martial arts consists of long-ago memories.
I'm looking forward to seeing all my old friends and students, and am hoping to meet many new and energetic newcomers who are attending for the first time.
Respectfully,
George E. Mattson