Free Seminars. . .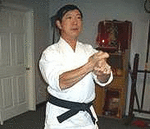 Darin Yee, an IUKF board member is willing to teach seminars in all IUKF dojos upon request and if time is available.  They need to call or email Darin to arrange a date and time.
This is a fantastic opportunity to train with one a senior Uechi instructor who has an extensive Chinese Martial Art background and more importantly, able and willing to help Uechi practitioners understand how our art relates to its Chinese heritage and the many different systems Uechi-ryu is derived from.
A most interesting and educational experience.
Darin is one of the senior presentors at this year's SummerFest. Don't miss working with him. Best,
George E. Mattson
From: TOWNSNDLAW@aol.com
Date: Tue, 15 Jun 2010 20:41:56 -0400
Subject: Darin Yee's Seminar
Dear Darin,
I just wanted to thank you for taking the time to come up and visit and teach at my Dojo on Memorial Day.  My students in attendance have been talking non stop about the different perspective you bring to Uechi teaching and the interrelationship between Uechi and your Kung Fu experience.
It is truly special to know that as an IUKF member and member school that we have access to such teaching and history.  My students have asked if you will be able to come back again soon and I assured them that we would definitely make that happen.
It is great to know that belonging to the IUKF affords us the opportunity, like we just had, to bring quality and different instruction into our Dojo to give the students the very best martial arts experience possible.
Thank you again my friend,
John Page, Sensei