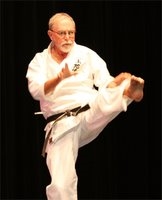 When I first ran SummerFests back in 1983 and '84, we had more than 500 people show up during the five-day event on Thompson Island. The camp was a new experience for the Uechi community and no one quite knew what to expect.
Everyone was amazed by the great experience of spending a week with the living treasures of Okinawa and China. Imagine, having Grandmaster Kanei Uechi taking you through kata and providing corrections and fine tuning of your form. Imagine meeting many of the most famous Okinawan teachers, who before that week, students had only read about. And now you were actually working out with them! Imagine meeting all the senior North American instructors and being able to practice with them and learn many new and varied applications and techniques contained in our system.,
SummerFest was born and it was a huge success. With the passing of time and fracturing of Soke into more than 30 organizations, SummerFest survived and flourished, albeit with fewer numbers.