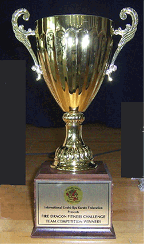 Everyone had a great time. . . especially the competitors. The Florida FireDragon Fitness Challenge was held in Mount Dora, Florida on Saturday, March 31st and everyone in attendance thought this was going to become an important program for children and adults of all ages.
All the results from the competiton are entered into the computer, along with weight, height and waist measurments.In the next competition, we will be adding a number of trophies to include "most improved" athletes in addition to individual awards based on age categories.
We anticipate a lot of interest in the team competition, consisting of three boys/men and three girls/women on a team. Saturday a team from the Mount Dora Middle School won the team award and will be able to display the Team Cup award until the next competition. The school's name has been inscribed on the trophy along with the year of their award.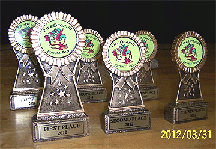 There are a number of ways to participate in the FireDragon Fitness Challenge. All results will be recorded in the FireDragon website, Individual and team winners from regions will compete at SummerFest for the World's Championship.
Shihan Fedele Cacia is organizating Challenges for the New England Region. If you are a large dojo or a group of dojo that would like to conduct your own Challenge. . . in New England or anywhere else in the world, contact Fedele (if you are located in New England) or me if you are located anywhere else in the world.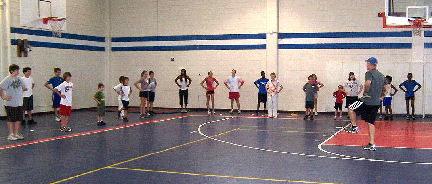 Sensei Jim Baggett warming up the competitors before the event.