Born: October 11,1937 Died: November 9, 2000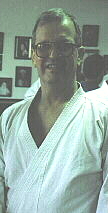 Dr. Merton Cochran, discharged honorably from the Marine Corps, serving from 1955-1959. Continuing his education, he graduated in 1973 from the University of Oregon receiving his Ph.D. in clinical psychology. Merton did extensive work with patients suffering from post traumatic stress disorder. He also was a coordinator for the employees assistance program at the Sheridan Wyoming Veterans Administration Hospital. During this time he was the Chief of Psychology Services. 
In retirement, at age 59, he began his study of Uechi Ryu Karate Do under Renshi Rokodan, Peggy Hess in Jensen Beach Florida.
His training and study became an important aspect of his life. Mert's interest in the martial arts developed later in life, therefore some things didn't come easily. This lack in natural ability was overcome by his strong will, perseverance, dedication and hard work.
A devoted Uechi Ryu practitioner, he was proud to achieve the rank of Shodan on December 4, 1999 under the watchful eye of Kyoshi Hachidan Jack Summers. 
His passing was sudden and unexpected. He is survived by his wife Diane and three children. 
He will sadly missed by his family, friends and dojo mates, but his spirit will surely live on.