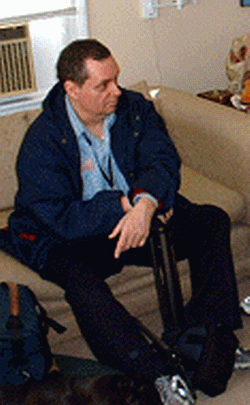 Al Moulton – – – Suffers fatal heart attack!
February 15, 2005: I received a call this morning from Chong, Al's wife, informing me of his death. Until the end, Al continued to post on these forums. His last email to me was February 2nd:
The latest news isn't so good, George. Actually considering the alternative, maybe it is. A week ago Thursday I was rushed to the hospital with chest pains ala 911. Spent the weekend there. Beat the Grim Reaper again. Today, received results of the tests. I have permanent damage to the ole ticker. I guess dieting and exercise sometimes don't make any difference. I'm going out for Pork Ribs and beer tonight, . . .l.

cya.

Allen

 
Al was a very proud person. He didn't complain, even though he lived his last twenty years of his life (following a serious accident) in constant pain. He was a tireless advocate for Uechi-ryu and participated in as many activities, tournaments and classes as possible.
Al is best known for writing a number of excellent Uechi-ryu text books and for his contributions to these forums.
Because of his illness, Al was unable to work for the past year. They didn't have insurance and his health problems drained all savings. Although she didn't ask, I believe she would appreciate any financial help the Uechi community could provide.
Please send any donations to:
Chong Moulton
45830 High Way to Heaven Lane
Great Mills, Maryland 20634
[Please visit the Special Needs Forum for comments from his friends.]