John VanderLaar Dead at 48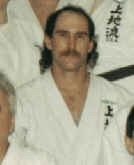 Word of longtime Uechi-ryu practitioner John VandeLaar's passing has saddened the martial-arts community in Michigan. A Battle Creek resident, VandeLaar, 47, began studying Uechi-ryu in June 1979 under Sensei Bill Keith, and shortly thereafter became a student of Sensei Jim Thompson's during the transitional period in which Thompson bought the Okinawa Karate Academy in Kalamazoo from Keith. In later years, VandeLaar dabbled in Goju-ryu, Shotokan, Kobudo (under sensei's Estrada and Nagazato), Kendo and aikido.
At his home in July 2005, John told Jim Gemmell in an interview for a future documentary on Uechi-ryu in Michigan that he was "one of the smaller guys in the (Kalamazoo) dojo" when he began. He said longtime student Doug Wunderly "took me under his wing a little bit and helped me along. I also did a lot of classes with Mark Stewart, a kickboxer, and Don Joyner."
VandeLaar recalled the hard-core traditional training and testing regimen at Thompson's school in the early 1980s. "For example, for the Sanchin test, you had one person in front of you and one person behind you, and you had a complete test, as far as the strikes, on every thrust."
John was grateful for the great martial-arts heritage in Michigan, in terms of both the high-quality instructors and the competitors in various styles, as well as his students. He said Al Doorlag got him involved in the AAU (Amateur Athletic Union) tournament competitions in the late 1980's, which VandeLaar continued to be involved with up until the time of his death. John was also active in training students for the Junior Olympics, and Project Action, in which he helped raise funds to allow at-risk kids to pay for karate classes.
John ran a small dojo in the basement of his home for several years, and headed a karate program at a local gym.
Thanks to Al Bennett for the picture of John.