Auction is over!
Lots of action and lots of great deals! Watch for the next auction, coming soon.
+++++++++++++++++++++++++++++++++++
The auction program only allows one picture per item. The photograph I included in the auction didn't do justice to the beauty of these beautifully crafted works of art. Therefore I took a few more pictures to help get a few more bids in before the auction closes this evening. These are a very limited edition of never to be duplicated jars. They weigh-in at 13.5 pounds each!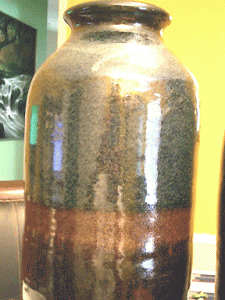 I promised Susan that our storage unit would be empty by my next birthday. Made that promise nearly a year ago. Since I've been busy teaching on-line and in my dojo, plus the monumental task of reorganizing nearly 20 years of web activity, the storage dilemma sort of got pushed into the background. About three weeks ago Susan reminded me of my promise and I began moving items out of storage and into our garage.
I'm putting quite a few things on e-bay and anything that I thought my Uechi friends might like to have I'm putting into a private auction that can be accessed at the bottom of this website.  The private auction begins September 1st, so check out the items and bid early! Good luck.
I also put some interesting pieces up on eBay. Click Here to view one and to see the others, scroll down to the slide-bar of items. If you have any questions about any of the auction items, please send me an email.