William J. Finnerty
August 20, 1928 – February 6, 2003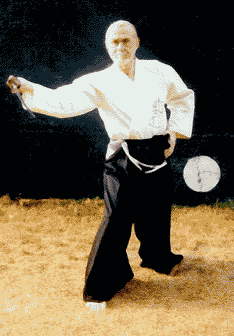 William J. Finnerty was born in Cambridge, MA on August 20, 1928. He was the son of the late Mary (Murphy) and John Finnerty. His father was born in Ireland and became a citizen of the US when he served in the Army during World War I. Bill lived in Cambridge and graduated from Rindge High School. He enlisted in the US Marine Corps upon graduation in 1946 and was discharged Christmas Eve 1952. Prior to the Korean War he was stationed in the Philippines and was sent to Korea when the conflict began in 1951. Bill was wounded at the Chosen Reservoir and was awarded a Purple Heart.
Bill returned to the United States in January 1952. While serving in the Philippines he became interested in the martial arts and began to work out at the YMCA with George Mattson in the late 50's. Bill married Nancy (Bernini) in April 1953 and they subsequently had six children, one daughter and five sons. Bill retired from the Post Office in 1989.
When he retired he continued to pursue his interest in Karate. He wrote several articles that were published in the Fighting Arts Newsline. Bill's interest in the martial arts became a way of life for him. He was a member of the Uechi-ryu Karate Association. Throughout the early years he taught at the YMCU as well as the YWCA. Bill also taught at the Karate Academy that George Mattson founded in Boston; however, Bill was a purist somewhat of a maverick.
Bill took part in tournaments and earned his black belt. He traveled to Okinawa, Japan and China and worked out the other Karate followers. He made a great many friends and enjoyed working out the the Chinese contingent when they traveled to America. Bill was always open to learning new techniques and was proficient with the sword and fans.
Bill was diagnosed with prostate cancer early in 2002 and succumbed to the disease on February 6, 2003.