Mark Andrew Waye
Bridgewater, Nova Scotia
Canada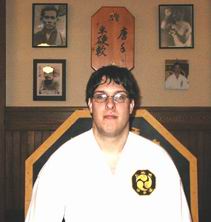 Passed away quietly at the age of 23 on January 26, 2005.
Mark was a dedicated member of the Bridgewater Uechi -Ryu Academy for 10 years. Mark was also instrumental in launching the nearby Lunenburg Dojo, helping instruct both adults and children.
Despite what many would find overwhelming physical challenges, Mark achieved the rank of Nidan and participated in every aspect of the style he so much enjoyed.