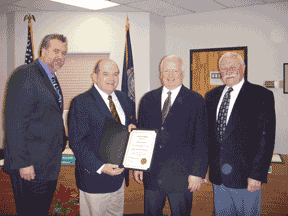 Town of Atkinson Recognizes
Martial Arts Instructor
Recently Sensei Buzz Durkin was recognized for his contribution to the community and received an "Outstanding Citizen Award" from the town of Atkinson, NH. The award was presented by the Chairman of the Board of Selectmen prior to their regular meeting and was televised to the local community as well. Sensei Durkin was recognized for the numerous community service events and fund raising activities his school has conducted through the years.
A unique plaque was also awarded to Sensei Durkin by the Town of Atkinson acknowledging his promotion to ninth degree black belt.
Pictured above: Selectman Bill Friel, Chairman of the Board of Selectman
Paul Sullivan, Sensei Durkin and Selectman Fred Childs.