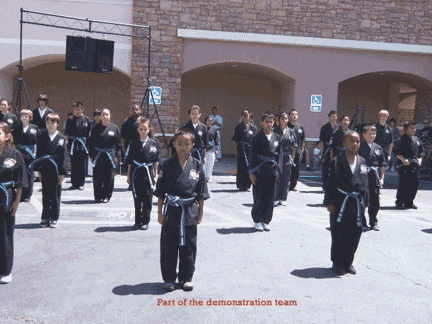 George Mattson Sensei,
I am sure that you will be happy to hear that John Felipe had a very wonderful and well attended celebration for his dojo's 15th anniversary and opening of the addition to his dojo today. His dojo expansion has basically doubled the size of his already large dojo in Pittsberg, California.
The celebration started with a prayer by his pastor, followed by speeches from representatives of the City Council and the local Chamber of Commerce, and followed with my presentation on behalf of IUKF and you to John your congratulatory certificate. The ceremony then followed with demonstration by John's fantastic Demo Teams. The exhibitions by the Demo Teams are just absolutely impressive. They must have practiced hours upon hours to be able to perform at that caliber. The afternoon followed with seminars on advanced Brazilian Jujisu, knife fighting and karate-gymnastic. All and all it was a very successful and impressive ceremony. We are definitely very prouid of John's accomplishment and wish him further success.
I am attaching a few pictures of the celebration and the dojo.
Take care.
Henry Thom
http://sites.google.com/site/henrythomselfdefenseandkarate/