Canada Uechi-ryu Update. . .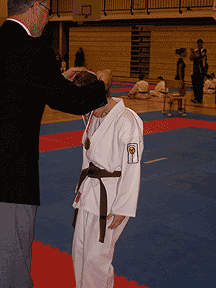 I just wanted to let you know that Uechi-Ryu katas are starting to make there mark at regional tournaments. My son Aidan is now the 2009 Atlantic kata champion in 12 to 13 yrs old blue to brown belt.
On May 9th Aidan competed in the Atlantic Karate championships in Charlottetown PEI. The best karateka in kata and kumite were in attendance from all four Atlantic provinces.
It has been a lot of hard work and answering a lot of questions from other styles but we are now starting to be understood.
Victor Swinimer
Bridgewater Uechi-Ryu Karate Do'
Nova Scotia