January has started off with a number of exciting projects.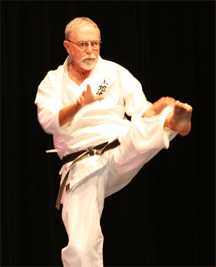 Sensei Dan Maestas has been working on a video production relating to my Mattson Academy "Virtual" Dojo program. Dan has taken IUKF's challenge to make his future gold stripe (Renshi) degree something more than just slapping on a stripe when he gets promoted to 6th dan. He believes, as I do, that "on-line" education has a very positive future for martial art dojo and his four year study, documenting his experiences and progress has become his Renshi thesis project. The first phase of his study involves this short video clip that I have been given permission to use in promoting the Mattson Academy. Although Dan has a few more years to go before qualifying for Rokudan, he says that his project will take that long to complete. View Dan's "Virtual" Dojo Study Here!
At last year at SummerFest, one of the parents asked me for permission to film segments of the seminars. I agreed and asked him to be sure and send me a copy. It has taken awhile, but the wait certainly was worthwhile. Turns out, his son is a professional videographer and has been working on a series of very well put-together films highlighting the activities at last year's event. The first one can be viewed Here!
IUKF members pay only $35 ($15 for students under the age of 22) and receive many perks for their membership. Besides discounts at activities and events, they are invited to attend monthly on-line seminars where important topics are discussed and training tips are taught. Archived films from my private library are viewed every month and these films aren't found on youtube!
This month, Sensei Victor L. Swinimer will be my guest and the subject will be "The Future of Tournament Karate and how Uechi-ryu Dojo can get involved."
I've been a long-term proponent of tournaments, having run one of the first, if not the first tournament ever held in North America way back in the '60s. I also created the first referee association, called NEKRA (New England Karate Referee Association) in the '80s.
Although my dream of seeing Uechi-ryu become the leading force in competitive sparring was premature, others who followed, have advanced the sport into what I could only dream of achieving. Today a number of organizations are competing for recognition by the Olympics promoters and the association that Sensei Swinimer is promoting is certainly one of the most qualified to earn that honor.
Next Sunday Sensei Swinimer will be updating our organization regarding the many benefits of including WKF tournament training as part of your dojo's curriculum. He was a very active participant during the years I ran tournaments and always did well in these events. His interesting experiences with these tournaments will highlight the many pitfalls of trying to compete in events where the officials all have their own idea of how a point should be awarded and what constitutes "excessive" contact.
We will be showing a number of training drills designed for dojo tournaments training and clips how officials work towards earning their certification.
Another important area that Sensei Swinimer will be covering is how our Uechi training can be useful and legal in tournament matches. He will also explain what and why certain Uechi movements are not allowed.
We are expecting a number of experienced world class tournament competitors to be at the meeting who will be adding their comments, personal experiences and training recommendations to the mix.

If you are an IUKF member and didn't receive your invitation, please contact me ASAP and I'll send you the log-in information. If you still haven't joined IUKF, contact our membership director, David Berndt for information.