SummerFest 2007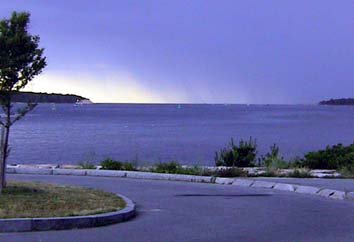 Hope everyone is thinking about the upcoming SummerFest for 2007.
The dates are July 27-29th and the place is the Mass Maritime Academy in Buzzards Bay, MA. (
Everytime I see the picture on the left, I remember all the good times and good friends these "Fests" represent to me!)
I never know who will show up, but the regulars can always be counted on to provide the "best of the best" material from all the familiar subjects we have come to appreciate and look forward to practicing.
My "core" Uechi program has taken on some new subjects while retaining all the important basics that my seminars have become known for. After so many years of trying to "pin down" the breathing explanations, I've become comfortable explaining it finally and after 50+ years, feel that the secret (if we wish to call it that) remains in Sanchin. In addition to my 6:30AM Sanchin on the Beach seminars, I'll be teaching my "Flinch" kyu kumite drill, that was previewed in a forum clip a while back and has matured to something that should be of interest to all ranks and all skill levels.
By now, all you "frequent flyers" here on Uechi-ryu.com know, running an annual camp cannot happen without "you". We need support from all the martial artists who practice and enjoy "crossing arms" with other players from other dojo and other systems.
This year we will once again have a full Uechi-ryu schedule; one that will keep all ranks busy and productively exploring the system. We are hoping that teachers of other systems will again be joining us to share what they are doing and in the process learn more about Uechi-ryu.
Of course, one of the main reasons people come back year after year is to meet new people and renew old friendships.
The only way the SummerFest formula can continue is:
Sign up early yourself.

Get your dojo to support the event. Get your friends to join you and encourage them to get their friends involved. Consider renting a bus to take your dojo's group to Bourne this year.

If you have something of value that you wish to teach in a one hour seminar, contact me ASAP with a brief description of your seminar

Get the kids in your dojo to sign-up for Jr. Fest on Saturday. A full day of excitement and martial arts.

Don't wait. Please…. do it now!
Thanks,
George E. Mattson
---