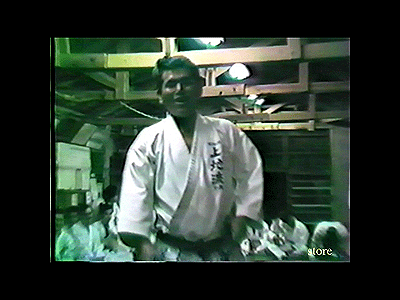 I've been working very hard reworking the hundreds of archived films in my library. Since many of the films are of the seniors in Uechi-ryu, I've decided to start a series called the "Masters of Uechi-ryu". In checking the many videos, I came across a really fascinating one and a half hour film taken in master Kosuke Yonamine's dojo following the historic 1985 Okinawa WinterFest.
Yonamine sensei is truly one of the greatest martial artist I have ever known. He was the person who probably had the strongest body and techniques in the martial arts. Although the feats of strength he routinely peformed, amazed everyone, he strongly proclaimed that he was experimenting with his own body and asked that we all hold off practicing these extreme training methods until he could proclaim that such training was safe and something that might be added to the Uechi-ryu curriculum.
Order the complete historic DVD Here!
As you can see in the video, his students were strong and excellent practitioners, but they could not come close to keeping up with sensei in any of the conditioning drills. He was indeed, one of a kind. . . and to boot, was one of the nicest person you will ever meet.

I've posted a short summary clip with highlights of the video. If you would like to get the complete DVD, visit the Uechi-ryu.com store.

To view the clip, click here: