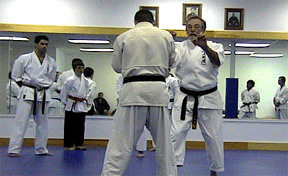 Hello Everyone,
I have been receiving a lot of calls regarding our regional workouts.  Most of the calls were asking when and where the next workout is going to be.  I'm sorry it took so long to get this one together because I have been very busy these last few months.  I am working hard to get an indoor/outdoor flea market in my facility.
After a lot of thought, I decided on a place which would be centrally located and assessable by all interested dojos.  I concluded that Natick would be a great middle area for a regional.  This would be an hour and a half closer for the people from NH.  Newton is right next door.  A little shorter for RI and about 1 hour closer for CT people.
The address is 117 E. Central Street, Natick, MA 01760.  The date is Saturday, April 26 at 2pm to 5pm.  We have the gym for 3 hours but I think we are just going 2 hours.  We will begin sign-ins at 2 pm and begin the workout at 2:30 pm.  We'll stop around 4:30 or so.
Our workout is simply that, a good workout.  There will be very little teaching.  I will however answer questions if anyone ask.  We will do some of our regular Uechi warm-ups and stretching then go into partner stretching.  We will work on punches, kicks and combinations.  We will work on katas for all ranks. For a finish, we will work on our controlled personal techniques with a partner.
It will be a blast to be able to experience working with friendly people from other dojos and to learn from what they do.  You will not be pushed to go faster or to go harder.  Work at your pace and with someone you want to work out with.
I hear there is a great little pub next door within walking distance to eat before we go home.
This is an open invitation to all respectable dojos who would like to get together with other Uechi people for a great workout and a social time afterwards.
The mat fee is $15 as this place is charging a lot more then running this at my own dojo. I had to rent this facility and provide an insurance certificate.  This place is pretty big so please ask every adult in your dojo to participate.  If any of your mature junior black belts want to come, please let them know they are welcome also.
A few of my junior black belts went to the last one and they had a blast.  They asked if they can come to the next one.  Since I am allowing my juniors, I am certainly welcoming yours.  The other consideration is these juniors will be our next generational Uechi stars to carry on our where we leave off.  I think it would be very advantageous to our Uechi Family to bring them together to develop mutual respect for one another.  Please encourage them to attend.
Thank you and hopefully I'll see you on the floor.
Darin Yee